Folding Electric Bike Reviews 2017 – 2018
| | | | | | |
| --- | --- | --- | --- | --- | --- |
| | Volt Metro | LCD Display for speed, distance, battery etc., 36v10ah – 16Ah Battery Options, 250w Motor, 80+ miles assisted range, 2 Yr Warranty, UK designed | High-End | | Learn More Here! |
| | Byocycle | 6 Speed, 25 Mile Range, 10ah 36v Battery, 250w Motor, 3 Stage Folding | Affordable | | Learn More Here! |
| | Bings Folding Bike | 3 speed, Fast folding, 36V 9A Battery, | Mid-Range | | Learn More Here! |
Top 3 Folding E-Bikes In 2017 – 2018
There may be many times when you might like to use a bicycle to get to work or for another reason, but you can't cycle all the way there. One way that you can get around this is by using a folding bike. But how much better would it be if that bike was also an electric bicycle? Here are the top three electric bikes around at the moment.
Volt Metro Folding Electric Bike Review – Our Number 1
This bike from Volt (Learn More Here!) has a very handy folding design that is easy to assemble so you can get going quickly. The large battery and long distance make it perfect for the commute to work. Here are some of the other reasons its number one.
Informative LCD display shows your speed, distance travelled and how much battery life you have.
The powerful battery has enough power to give you 80 miles assisted range. Of course you can still use it by just peddling.
A full 2 year warranty means you have great peace of mind.
With eight speed gears from Shimano, you can go up and down the hills with ease.
There are many great features on the Volt Metro folding bike, it is easy to maintain and has a Lithium ion battery for power and durability. It is worthy of its first place on the list.
Byocycle City Speed Review – Number 2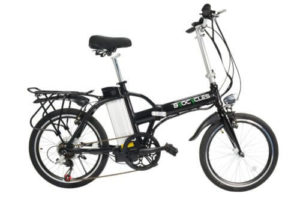 This compact but fully featured bicycle is great for cycling around town and your local area. It has a small profile when folded so you can pack it into a car or on a train. Let us see what other reasons this bike has for being at number two.
The bike has six speed gears to put lea strain on the battery and make it easier if you need to peddle unassisted.
The 10ah, 36v battery has enough power to give you a 25 mile range. Charging time only take 4-5 hours so you can easily charge the bike while you are at work.
The aluminium frame folds in three places and is light enough to be carried easily if needed.
The LED display shows the three levels of assistance the bike can give you when you are cycling.
The Byocycle City Speed is a great all round folding bike. It has a small unobtrusive battery that makes the overall weight of the bike much lighter than others of its type. It has a small size when folded and is light to carry around.
Bings Super-Fast & Cool Folding Bike Review – Number 3
This bike from Bings has a great innovative design that is set apart from other folding bike styles. It is very easy to fold and unfold making the commute that much quicker. Here are some of the bikes other great features.
Three speed Shimano gears makes it easy to peddle around town. Or it can help with the assisted motor.
Folds up in a concertina style which enables the wheels to still rotate. This means you can either carry or wheel the bike along with you.
It can reach speeds of 25-30 km with just the battery, but it can also be peddled as a regular bike.
Its strong design and build means it can take the hustle and bustle of city life with no problems.
The Bings Super-Fast and Cool Folding Bike is a great piece of engineering that can make your journeys easier.
Verdict
The number one spot has gone to the Volt Metro Folding Electric Bike. It has a number of great features that make it really easy to get around the town. It is also great for travelling on the underground or busses without taking up a lot of space.
Quick Links