BMW Active Hybrid e-Bike
When it comes to bike shopping, most people like to ignore the myth that luxury bike manufacturers make the highest quality of products. Shopping around for a renowned bike brand may seem confusing since you want a model that's worth the price you'll pay. You may consider getting a motor-powered bicycle to help you go to work, run errands or work out. With diverse options at your disposal, always opt for a brand known for combining excellent craftsmanship with high-quality materials.
This review breaks down everything you need to know about the BMW Active Hybrid e-Bike.
Why Buy an E-bike?
While it's common knowledge that cycling helps burn calories, people tend to assume e-bikes can't facilitate the same. Electric bikes require less effort to operate but can ultimately help you workout just like regular ones. They facilitate access to places a car or a non-powered bike would experience difficulties when trying to reach. Putting them in the same category as motorcycles would be an exaggeration since they take the shape of non-powered bikes and are lighter in weight.
The two crucial parts of an electric mountain bike include the battery and motor. Depending on the design and model of your bicycle, these two parts may boost your feet's pedaling power. A controller attached to the bicycle's handlebar helps adjust the level of assistance needed for each ride. An e-bike can help you ride through the steepest terrains though it weighs more than a non-motorized version.
What Factors Should You Consider When Buying One?
One way to ensure you invest in the right e-bike is to write down a checklist of the features the machine should have. Browsing through the vast selection of items related to what you're looking for can be quite a daunting exercise. Consider narrowing your search using style and price as your criteria then take other factors into account. These additional factors include charging time, value for money, battery, motor, controllers, mode of operation, design and range as discussed below:
Mode of operation - The two common modes of operation include pedal assist (which relies on pedaling) and power-on-demand (which relies on a mounted handlebar for activation).
Motor type -Electric mountain bikes operate on either brushless or brush motors (with a wattage of up to 750 watts) attached to their wheel hubs.
Battery - Lithium-ion batteries are the most popular form of rechargeable batteries. An e-bike manufacturer may substitute them with nickel-cadmium, sealed lead-acid and nickel-metal hydride batteries of different charge capacities (amp hours).
Control system - The control system in use would depend on the amount of initial torque an electric bike requires. A brushless motor will have a sophisticated control system due to the high initial torque requirement while a brushed motor will have a more straightforward controller for thermal, speed and current regulation/protection.
Design - Common e-bike designs may include cargo bikes (for carrying large items), chopper-style bicycles (for novelty), folding bikes and bikes with fixed batteries in a tube.
Charging time - The maximum time your e-bike can take to charge fully is 8 hours. A full charge can last you a 25 to 30-mile distance when cruising at 20km/h (speed may vary with the texture of the terrain).
Range - The furthest your electric bike can reach will depend on its motor efficiency, weight, battery capacity and aerodynamics. Some bikes feature a regenerative braking system to slow them down and extend their range for the durability of the brake pads and wheels.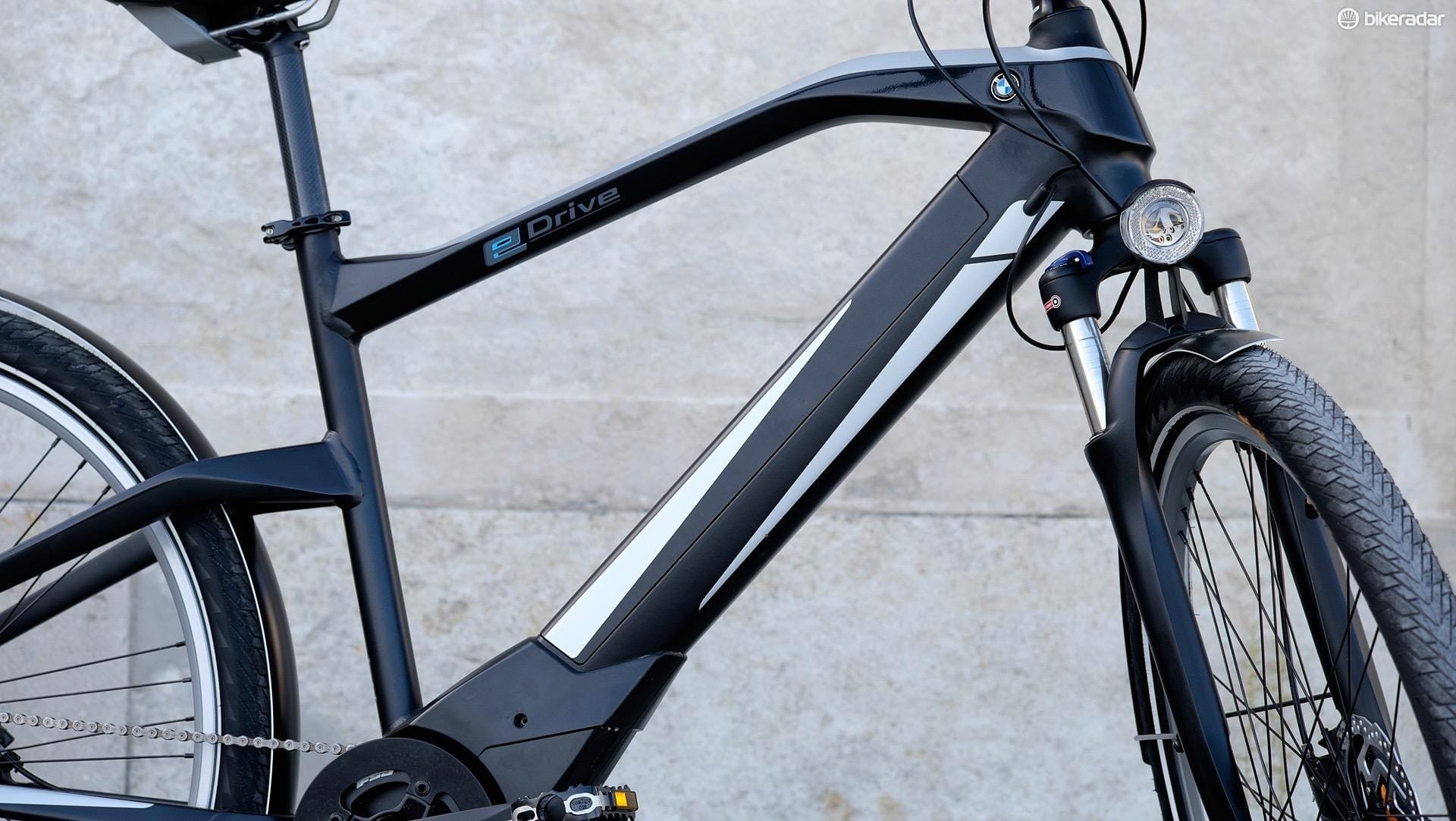 What Makes BMW Active Hybrid e-Bike Exceptional?
Active Hybrid is a gorgeous and sensible hybrid electric bike from BMW that stands out from other e-bikes thanks to its luxurious appeal. The only way you can get a real-life glimpse of this beauty is through BMW's car dealerships spread across the globe. BMW clearly targeted wealthy customers with this pricey accessory looking to complement their existing BMW cars.
It's exciting to see BMW's branded e-bikes evolving over the years since 2013 delivering impressive results. The Active Hybrid, a rear-wheel-drive hybrid machine, features a signature design found in old BMW motorcycles. Despite this slight resemblance, the manufacturer added unusual tube profiles and striking lines of alloy frames on the bike for durability and strength.
Pros
Powerful mid-drive motor, which delivers a maximum torque of 90Nm (enough power needed to facilitate a distance of up to 100km when paired to a 504Wh battery)
Motor provides quiet and smooth power when riding along different surfaces/paths
Powerful, well-modulated hydraulic brakes in times of emergency or sudden stops
Unique frame construction (resembles frames found in classic BMW motorbikes)
Neatly integrated down-tube battery with a capacity of 504Wh
Appealing hues of the alloy frame characterized by unusual tube profiles and striking lines (reminiscent to the palette colour of current BMW cars)
Cons
Average features (which largely rely on mid-range parts)
Riding experiences are unremarkable (not necessarily in a negative way)
Freewheel makes horrible machine-gun-like cracks
Under-damped Suntour suspension and clattering mudguards tarnish what the brand represents
Active Hybrid demonstrates BMW's not-so-fruitful effort to maintain a presence in the e-bike market. It's reminiscent of BMW's classic motorcycles concerning its design drawings and hues. The manufacturer really tried to include a powerful motor and high-performing hydraulic breaks on the machine among other outstanding features. However, BMW continued the same juvenile approach it's famous for using when designing/manufacturing bicycles.