Should You Buy The Carrera Crossfire?
Carrera Crossfire E Bike Review - 2022 - 2023
If you are looking for a reliable torque-sensing e-bike that can give natural assistance on the steepest gradients as well as perform on the road, then this hybrid bike from Carrera is what you need.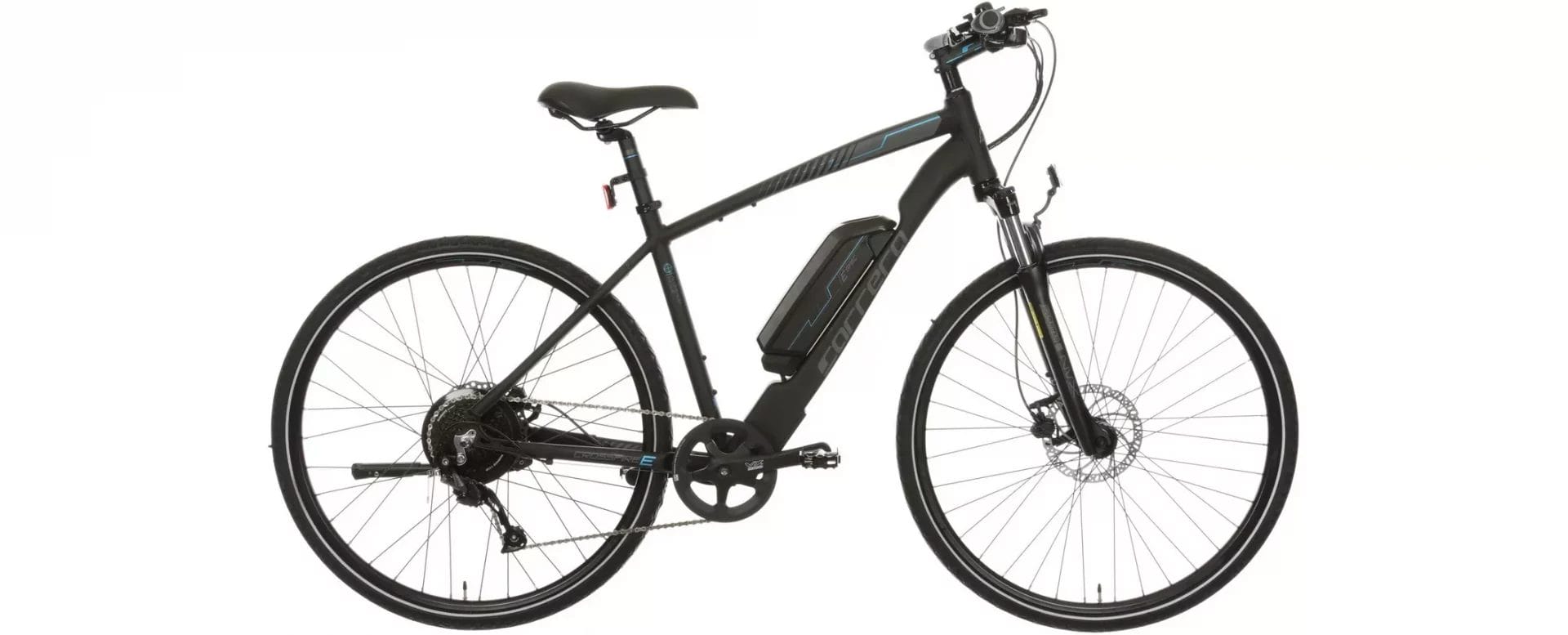 Boasting a HESC motor, 60-mile range and hydraulic disc brakes, the Halfords own-brand budget range hybrid bike is good value for money within its price bracket. 

To find out whether or not this Carrera Crossfire hybrid bike is for you, we have reviewed all of its components in more detail below. 
Ideal For The Price
Fully removable battery
60 Miles maximum range
6 Hours to recharge
Additional feature: Walk assist mode
What Is a Hybrid Bike? 
First of all, before we get into reviewing the Carrera Crossfire electric bike, let's discuss what type of bike the Crossfire model is.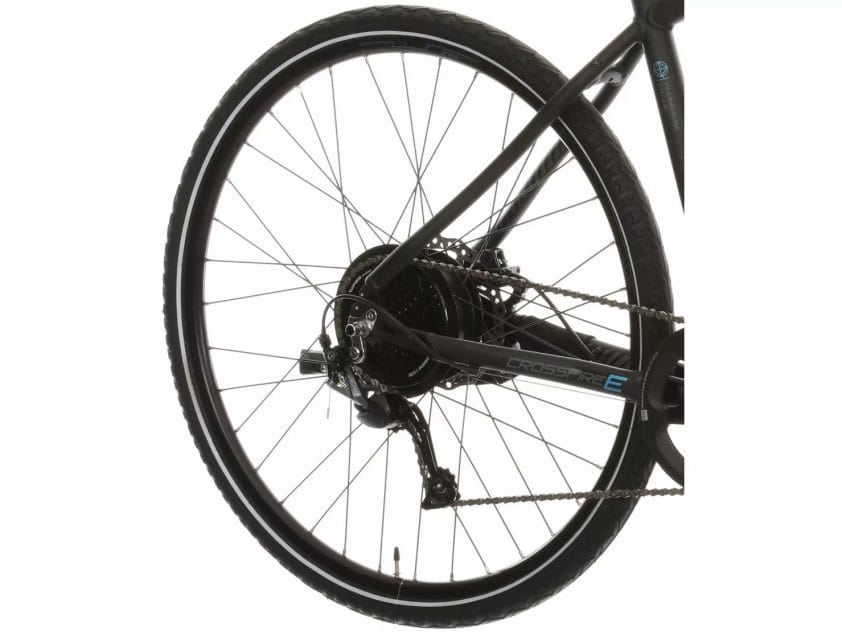 The Carrera crossfire electric bike is a hybrid e-bike, a hybrid electric bike is essentially a mountain e-bike, road e-bike, and cruiser e-bike combined. So if you are not sure about what you will be using your electric bike for, going for a hybrid model will be your best solution. 
Our Review Of The Carrera Crossfire E Bike
Now we know exactly what type of electric bike the Carrera Crossfire e-bike is we can get into reviewing it down below to see if it's worth the investment. 
Electric Components 
Motor
Motor-wise, the Carrera Crossfire electric bike comes with a Suntour Performance 36V hub rear electric motor which can produce up to 60Nm of torque with a cadence sensor to produce torque-sensing power levels from the hub motors design. 

Top speeds of 15.5mph can be produced by the motor keeping within local UK lawns.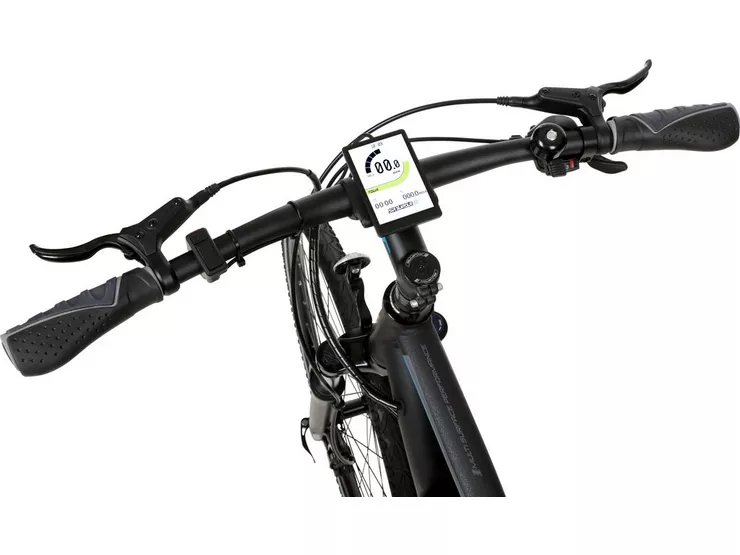 What We Think
The rear hub motor design of this Crossfire bike is pretty exciting when compared to Carreras other range of bikes such as the Vengeance's motor, this motor has excellent torque sensing power levels for an impressive riding experience and the actual power of this bike is great for the price. 
Considering the price, we wouldn't change the raw power from this motor, it is suitable for both on-road and off-road use.
Battery
For the battery, this hybrid e-bike uses a semi-integrated Suntour STL battery in the downtube of the bike with a capacity of 417Wh/11.58Ah and a range of 60 miles. This battery is key removable for safety. 

It also comes with an integrated smart control system to keep the battery healthy and can charge within around 6 hours total.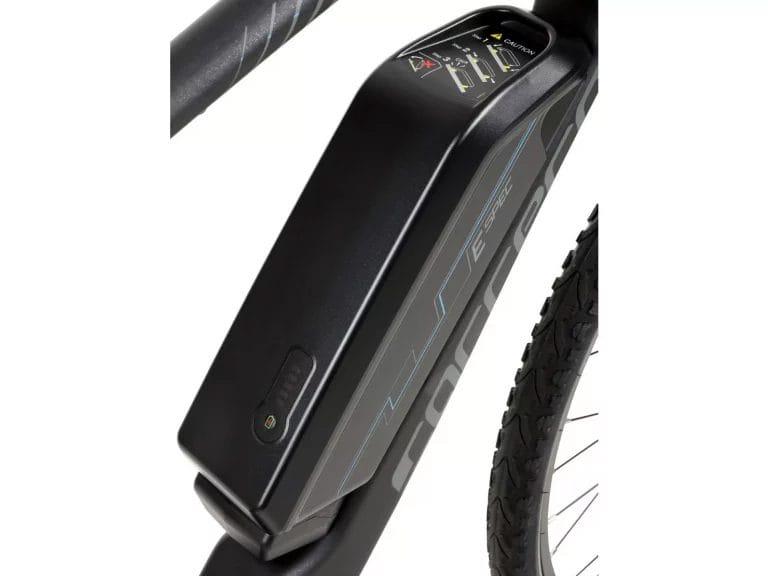 What We Think
Overall, the battery power of this electric bike is more than enough for a regular mile trip or adventure, it has a battery range of 50-60 miles which is fine for the price bracket and its removable design is excellent for commuting purposes. 
PAS/Display
Four assistance modes are included with the torque model, ranging between eco, tour, sport and turbo and there is a Suntour TFT multifunctional colour display that allows you to switch between power-assist while showing important statistics such as mileage and battery level. 
What We Think
The display of this Carrera e-bike is one of the most practical displays we have seen on Carrera's electric bikes, the design is nice and large which makes it perfect for people who struggle to read displays and it is also removable is great for theft protection. 

Bike Components 
Frame 
In terms of the frame, this electric bike comes in an aluminium crossbar or step-through frame and is accompanied by a Suntour NVX-DS HLO 75mm travel fork for extra comfort when using the hybrid bike on rougher trails. 
Total weight of the electric bike is around 22.5kg which is in line with other Carrera bikes from the range, it also comes in both a woman and man's frame.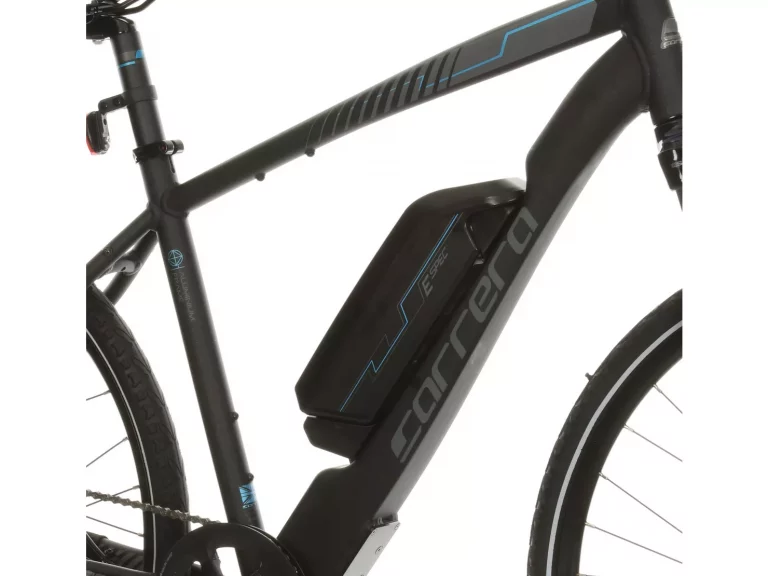 What We Think
The overall frame of the Crossfire e-bike is durable and tidy thanks to its internal cable routing, we also like the step-through design option, as many riders nowadays prefer these in the road and commuting bikes as they are easier to mount. 
We only have one little downfall and that's the battery location which does stand out a fair bit but is expected on these electric bikes for the price. 

Brakes & Gears 
One of the most impressive components on this crossbar frame is the hydraulic disc brakes that come with it, this allows for excellent stopping power even steep gradients. The brakes are paired with a set of Shimano Altus 9 gear range too. 
What We Think
The motor gearing of this electric bike is not the best or worst, it has a good bottom gear range for tackling hills, and when used with the hydraulic brake system gives a reliable ride of any kind of adventure.
We would have liked to see a bigger range of gears on the hybrid bike, but for basic off-roading and the price, it is good enough.
Wheels & Tyres 
For the wheels the bike uses a 700c size and is equipped with 28" Kenda K-935 (42-622) tyres for durability on harder terrain, they are puncture resistant too. 

The wheels and hubs of the electric bike are both unbranded.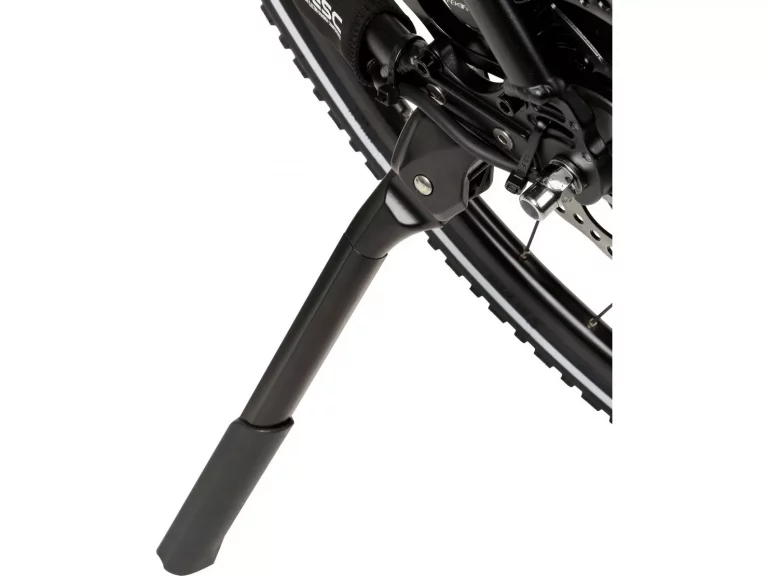 What We Think
Both the wheels and tyres on this electric bike are great for road riding and off-road riding too, you might want to switch the tyres out for a more aggressive tread pattern if you want to use the e-bike on rougher terrains. 
Moreover, you should also read our previous article in which we reviewed the Fiido D11 e-bike.
How Does The Carrera Crossfire Bike Perform?
When riding the Carrera Crossfire bike you do notice the HESC system on the powerful motor coming into play, producing very natural ride assistance when you are pedalling. Its large LCD made reading metrics easy and the whole feel of the e-bike is smooth thanks to the 28-inch wheels. 

We managed to reach a range estimate of around 50 miles, so a little less than the range estimate Carrera have given, but then again, this is variable according to the rider's weight, plus we took it up the steepest tarmac bike path of all time. 
We did notice a little noise from the powerful motor when using it on the highest stretch of max power, but nothing to be concerned about. It's lightweight also allows you to ride without power easily. 
Ideal For The Price
Fully removable battery
60 Miles maximum range
6 Hours to recharge
Additional feature: Walk assist mode
Is The Carrera Crossfire Electric Bike Really Worth It?
All in all, there is a huge list of advantages to this bike, with its smooth power delivery and maximum power rear hub motor with torque-sensing, we would say this hybrid e-bike is worth it if you want a reliable model that can take you anywhere. 
We would suggest giving the Carrera Crossfire bike a miss if you want a mountain bike, as although the assistance from the powerful hub motor is great, it is not enough for technical trail riding due to its limited gearing range too. 
FAQs About The Carrera Crossfire Electric Bike
Does the Carrera crossfire e-bike have a centrally-mounted display? 
Yes, the Carrera crossfire e-bike has a larger central display than most of its other bikes, displaying PAS and important metrics like speed, time and distance, as well as battery life.

How much does the Crossfire bike cost? 
The Crossfire Carrera e-bike costs £1399 at Halfords (at the time of this writing). 
What is the max torque rating of this e-bike? 
The max torque of this electric bike is 60Nm torque.
Is there a mountain bike in the Carrera range? 
Yes, there are a few mountain bikes in the Carrera range, some of the most notable ones are the Subway E and the Carrera Vulcan electric bike.
What frame options does the Crossfire have? 
The Carrera crossfire electric bike comes in 17-inch, 19-inch and 21-inch frames, allowing you to get any height you need according to your size, you can also find the bike in both a women's and men's design as well as a step-through and standard crossbar design.
Can I use the Carrera Crossfire e-bike as a normal bike?
You can turn the motor power of the Carrera crossfire bike and use it as a normal one, but the battery and motor will weigh the bike down which can be harder to ride with not having assistance.

We recommend going for the Carrera Crossfire bike normal version, without the e-assist, this costs around the £400 mark instead.
Should I buy a hybrid bike or a mountain bike? 
If you want to be taking on technical trails with your electric bike more than road biking, then you should go for a complete mountain bike, these will often be better equipped with off-roading features such as an extensive gear range and off-roading tyres. 
For someone who is looking at a road electric bike, they can take on commutes and do occasional light trail riding with them, yes, a hybrid bike would be the more suitable choice as it is more versatile in its design.
Is it worth buying an e-bike with crank motors?
Crank motor electric bikes are often more expensive than rear hub models, this is because they give you power exactly where you pedal, their weight distribution is also right in the middle of the bike making it much more comfortable to ride with.
Ideal For The Price
Fully removable battery
60 Miles maximum range
6 Hours to recharge
Additional feature: Walk assist mode
Last Words  
To conclude, the Carrera Crossfire electric bike is a great buy if you are looking for a standard hybrid e-bike with a good range of features and high-quality specs such as its torque-sensing motor and hydraulic disc brakes. 

We would suggest buying this bike only if you want a decent road and off-road bike however, for a mountain bike the gear range is slightly too limited and the battery capacity.
Ideal For The Price
Fully removable battery
60 Miles maximum range
6 Hours to recharge
Additional feature: Walk assist mode