Cyclamatic Power Plus CX1 Electric Mountain Bike
Electric bikes are gaining critical acclaim as people are on the lookout for new exciting technologies. Gone are the days you'd arrive at your destination sweaty or encounter traffic along the highway. It always feels great when riding a motor-powered bicycle designed for maximum comfort. As you're figuring out which e-bike to choose, we picked one you may like.
Easy to use - Quick release battery. Quick release front wheel. Safe to ride in the rain. Minimal assembly (under 5 mins). Quick change Shimano gears
Incredible performance - 28 miles range on normal terrain. Reach speeds of up to 15 mph. Upgraded lithium-ion battery - 36V
Stylish - Latest mountain bike frame design - not some old frame that looks like it has been taken from a 1920's film set. Bright silver brushed finish.
Comfort - Padded saddle. 21-speed Shimano gears for a smooth ride. Kenda Tyres. Front suspension.
In line with European laws, this model does not have a fully automatic electric mode – some degree of peddling is always required
Let's take a dive into the specifics and benefits of owning an e-bike with Cyclamatic Power Plus CX1 as the lead example.
Why Buy an Electric Bike?
E-bikes fall into two categories (road and mountain) and a variety of niches such as folding, cargo, cruiser, hybrid and urban bikes. Manufacturers build them intending to help riders keep up with traffic, haul cargo and climb steep slopes. Since the bicycle runs on a motor powered by a rechargeable battery, its power reduces the more you ride it. After a few rides, you can definitely estimate the distance the machine can run without running out of power.
Just like conventional bicycles, e-bikes also come in a variety of styles and designs. Manufacturers usually integrate different features into the machines to make them appear stylish and comfortable/easy to use. They also design them targeting users of varying age groups with performance and safety concerns in mind.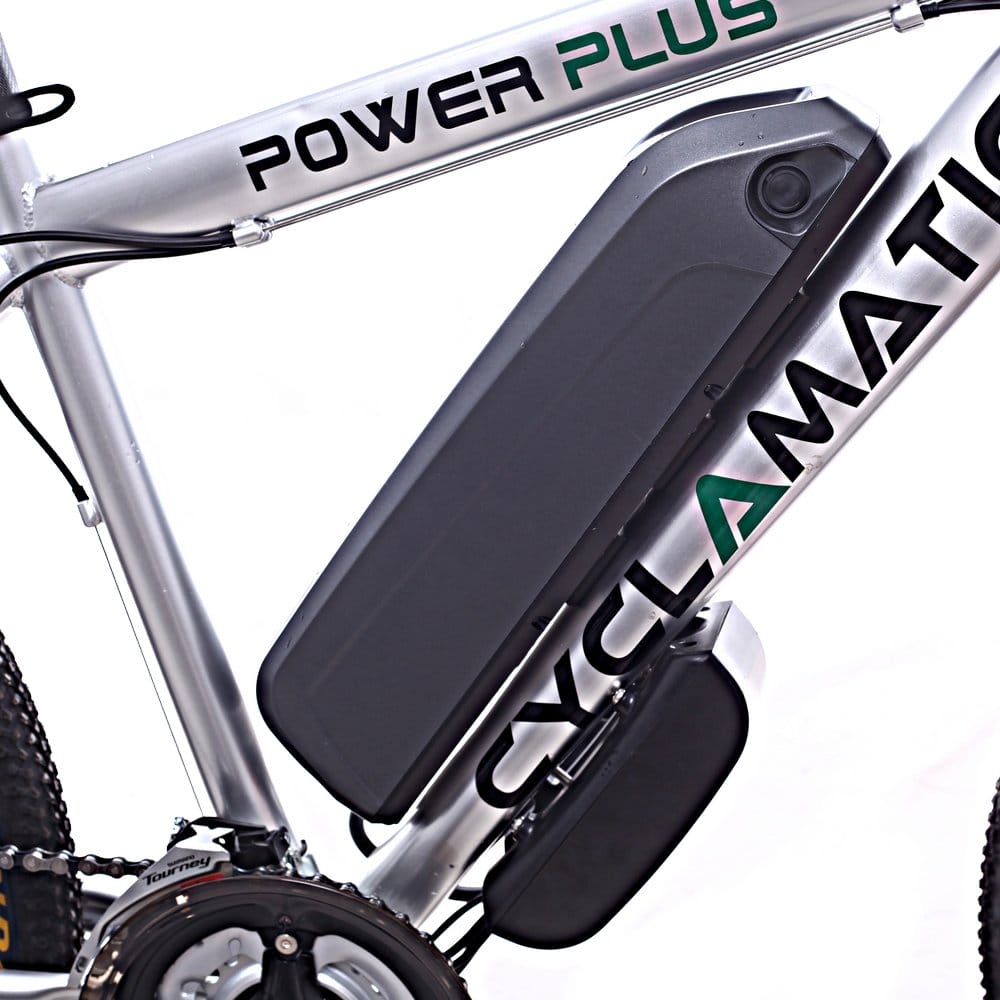 What Factors Should You Consider When Getting an Electric Bike?
One way to get the most out value out of money spent on an e-bike is to take time going through the available options. You'll notice that the bicycles differ in terms of security features, prices tiers, frame construction and battery type among other factors. Once you take each one of these factors into account, you'll be a step closer to finding your dream e-bike. Consider the following features:
Security features - Electric bikes may have locks (purchased separately) on the battery or rear-wheel as security features. Either way, remember to invest in one with industry approved locks.
Frames - Aluminum is the popular choice for constructing bicycle frames since it's durable and affordable. Other frame materials to look out for include steel and carbon fibre.
Component quality - Each price tier in the e-bike market represents a tiered component quality. Expensive electric mountain bikes have high-end features such as mobile app integration while the low-priced ones don't have any.
Mounted displays - A handle-mounted LCD display would be convenient when you want to monitor your bike's battery life and switch to a different speed option (if supported).
Motor torque - consider this factor if you're planning to cruise along with hilly areas or haul heavy cargo. Though motor torque (defined as the force applied per riding distance) varies, you can adjust it in the pedal-assist settings.
Motor location - An e-bike may have a hub-drive motor (lying inside the hub of the hind wheel) or a mid-drive motor (located at the bottom bracket). Hub-drive motors make you feel as if someone is pushing you along a path while mid-drive motors help keep your ride stable and balanced
Battery capacity and charge time - Watt hours (Wh) is the number of hours it takes to deplete 1 watt of power. A 1000-Wh battery last longer when powered with a 500-Wh motor since the motor drains less power. Though batteries with more substantial watt-hours to take longer to charge, a faster charger can power them up quickly.
What Makes Cyclamatic Power Plus CX1 an Exceptional E-bike?
Power Plus CX1 builds on the success of the original Cyclamatic Power Plus model by introducing a high-performing brushless motor with a 21-speed gear system. Cyclamatic also upgraded the battery and added quick-shift gears, reliable brakes, 3 pedal-assist modes and a steel frame to the bicycle. Once you start pedalling, the 250-W motor will start running, making the ride faster and smoother than a conventional bike.
You can select one of the three pedal-assist modes on CX1 through the handlebar controls. With a 21-speed quick-change Shimano gear system, the e-bike can easily incline on a path and release its front wheel for storage/transportation. It only takes less than five minutes to assemble CX1 once purchased. The Li-ion battery is also easy to remove/recharge and can deliver up to 6 hours of travel time on normal surfaces at 15 mph maximum speeds.
Pros
Incredible performance (attains maximum speeds of up to 15 mph on a full charge)
Battery takes less effort to remove and recharge
Minimal assembly required (takes less than 5 minutes to assemble the entire product)
Waterproof battery (comes with a seal to protect it from weather conditions)
Suited for most riding surfaces (including inclined ones)
Stylish and comfortable (features a bright silver-brushed finish)
Common spare parts are readily available
Cons
Can't climb steep hills (torque limited to certain terrains making it difficult to ride through extremely hilly areas)
Requires you to regularly readjust its disc brakes (some users may find this repetitive exercise annoying)
Not suited for users below 5ft 4 or age 14
Cyclamatic Power Plus CX1 is a stylish 21-speed geared electric mountain bike that leverages the success of its predecessors to deliver a reliable transport solution. The e-bike can let you cruise up to 28 miles on a normal terrain whether it's raining or not. Cyclamatic enhanced comfort on the bicycle by including a padded saddle and front suspension system. Based on its impressive features, it's safe to say that CX1 tries to cater to biker's mileage and power needs while being competitive.