Cube Electric Bike Review
Cube electric bikes get their power with Bosch systems; the partnership between these two companies results in the most sleek and powerful e bikes available in the UK today. Cube is considered to be a high quality brand in the e bike industry, however they offer products with lower prices compared to competitors like Haibike and Bulls.
If you are new to cube e bikes or you have purchased several before, the Cube Reaction Hybrid Pro 500 is a great ride. Whether you are in the market for an electric bike for health benefits or just to get around your neighborhood faster, you cannot go wrong with buying the Cube Reaction Hybrid Pro 500.
Cube Reaction Hybrid Pro 500
The Cube Reaction Hybrid Pro 500 is a hybrid electric mountain bike that makes a great fit for all riders, from beginners to experts. Depending on which size you choose, the wheels on this electric bike are either 27.5 inches or 29 inches. These wheels are larger than average, but increasing the air volume in your bike's tyres allows for increased comfort when riding long distances. Larger wheels on this particular model also means that you can better ride over cracks and bumps and rocks are smoothed out, leading to an all-around more pleasant riding experience.
The tyres that come fitted with this model are 2.6 inch plus sized tyres, which adds to a smooth, unique ride. They are Schwalbe Smart Sam tyresthat incorporate puncture-resistant layers to minimise the chance of getting a flat.
The frame of the Cube Reaction Hybrid Pro 500 electric bike is truly a thing of beauty. Its minimalist design is sleek and sophisticated, yet it holds the possibility of infinite upgrades should you wish to get crafty. The frame on this model is expertly sculpted with Cube's Superlite Aluminium Alloy for both efficiency and easy portability. The cables on this bike are internally routed so that they stay out of the way and the grommets that hold everything together are big enough for easy servicing. The fork lowers, rims, seat post, stem, and handlebar on this bike are black. The black frame is complemented by silver highlights on the disc brake rotors, the wheel spokes, and the suspension fork stanchions.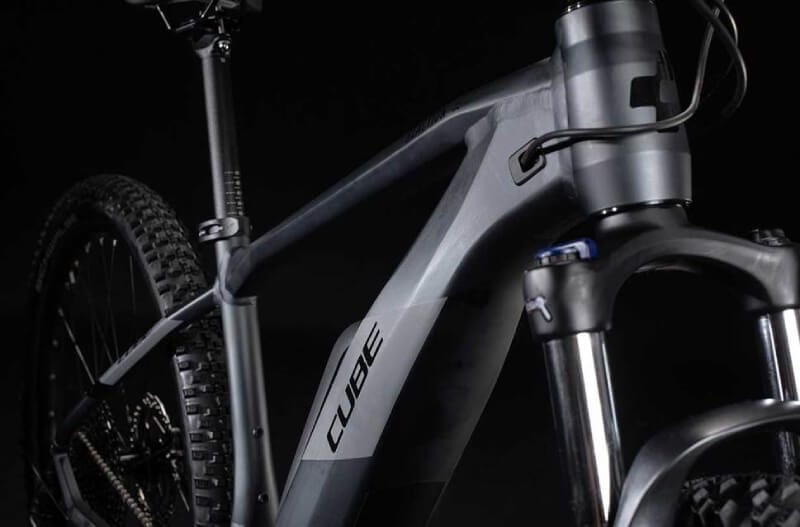 The Cube Reaction Hybrid Pro 500 electric bike is powered by a high-capacity Bosch PowerPack 500. This particular battery has a capacity of 36 volts and 13.4 amp hours, meaning that it has almost 500 watt hours of capacity. This is one of the most widely used battery packs for the average electric mountain bike, meaning that it is incredibly easy to find replacements or borrow or rent extra packs when necessary. The Bosch battery pack itself is wrapped with tubing, which helps it to blend into the frame of the cube e bike. This way, you do not have a clunky battery in your way or drawing attention away from the superb design of the Cube Reaction Hybrid Pro 500 electric bike. The battery charges to 50 percent in about two hours, and then slows down after this. If you need a faster charge time, we suggest buying a four amp Bosch charger in place of the two amp Bosch charger that comes with purchase of this mountain bike. Users have suggested to try to keep the battery above a 20 percent charge and to avoid extreme heat or cold in order to extend its life.
Activating the drive system on this electric bike is very easy, which makes this a perfect starter bike if you are new to electric bikes. Once you have charged and mounted the battery onto the bike, simply press the power button on the top of the display panel on the left handle. This will power up the Bosch Purion Display, which can be seen as the operating system of this bike. The buttons are easy to push and once you ride the Cube Reaction Hybrid Pro 500 a few times, you will find that you do not have to look at the screen that often. This system is very dynamic; the bike will even calculate how far you can ride before you must charge the battery again. This is supremely helpful if you use the bike on a regular basis on your commute to work. The system also has a walk-mode button, which activates the motor to slowly help you along when walking the bike.
Pros:
The weight distribution on this electric bike is excellent. Both the motor and the battery are situated low and centered on the frame. The motor is also effectively integrated into the frame by being enclosed by a plastic skid plate.
The Cube Reaction Hybrid Pro 500 is available in eight different sizes so you can be sure your electric bike fits you no matter your size. The frames are available from 14 inches up to 23 inches.
A durable 15 milimetre thru axle on the front wheel of this particular model reduces tension and allows for more responsive steering.
The large tyres on this bike allow for more air volume and therefore more comfort while riding.
There is more than enough room below the top tube in front of the seat to mount some accessories; purchase of this electric bike comes with two bottle cages in fact.
The hydraulic disc brakes on this bike provide excellent stopping power and control that is suitable for cross country rides as well as street rides.
The Bosch CX motor controller that is on this bike measures everything, including pedal cadence, pedal torque, rear wheel speed, and tyre pressure changes.
Purchase of this electric mountain bike comes with a two year warranty that covers everything including the frame, motor, and display system. Buyers have raved about how helpful the customer service is from Cube.
Cons:
Purchase of this mountain bike does not come with pedals, so this will be an added cost.
The suspension fork on the Cube Reaction Hybrid Pro 500 uses a coil spring instead of an air spring, so it weighs more than necessary and is not as adjustable as an air spring would be.
This particular model weights more than you would expect at almost 53 pounds.
The motor on the Cube Reaction Hybrid Pro 500 makes more noise than a motor on competing bikes do.
The Purion display panel that comes with purchase of this model is not removable and does not include a micro-USB port like other displays do.
Purchase of this bike comes with the much slower two amp charger and not the faster four amp one.
Some buyers have complained that the chain can become loose when biking in extremely wet and muddy conditions.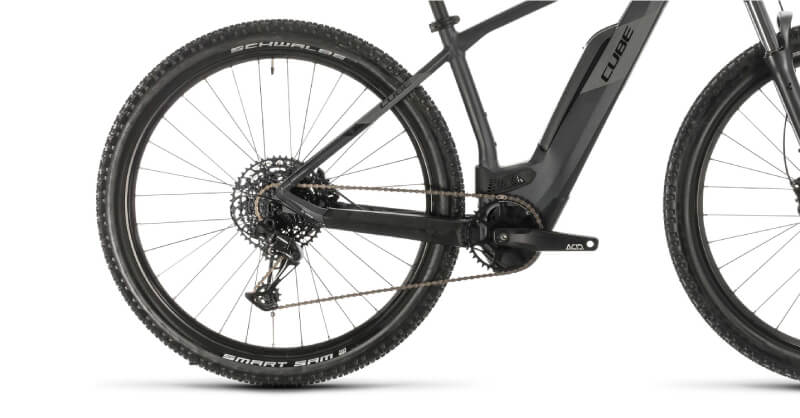 Overall, the Cube Reaction Hybrid Pro 500 is an economic choice when it comes to electric mountain bikes. You can ride this electric bike on the street and on trails, which makes is an innovative and adaptable model for people of all lifestyles. The lightweight frame and fast motor make the Cube Reaction Hybrid Pro 500 top of the line in terms of both power and performance. You can be sure that purchasing this electric bike will be one of the best decisions you make all year long.