Table could not be displayed.
Best 3 Electric Mountain Bikes
If you love cycling or you use your bike for commuting to work, you will know that it can be a problem trying to ride up hills or over a long distance. Maybe a good solution would be to get an electric mountain bike. Ebikes are great to use because of the assistance the electric motor gives and the long battery life. Here is a top three list of the best in the market.
Cyclamatic Power Plus Review - Our Number 1
This bike from Cyclamatic has a powerful motor and reliable battery that will keep you moving for many miles between charges. It has some great features as well so let's see what has made this the number one.
Top speed of 20 km/h is more than enough to get you from A to B with little effort.
A 200 watt brushless motor is quiet and reliable. It is the most powerful motor allowed on a bike in the UK.
With a high capacity battery, you can get a range in excess of 45km on one charge.
Can be used as a traditional bike or as a fully propelled electric cycle. There is also an intermediate mode that adds additional power to your peddling.
The Cyclamatic power plus electric bike is a great multipurpose cycle that can be used in various modes. With its long range and reliable motor, it will have no problem with your commute.

West Hill Pro Terrain Review - Number 2
The West Hill Pro Terrain is a well-made mountain bike that has a few tricks up its sleeve. It has a reliable motor and a high capacity battery that will give you a lot of travelling before it needs a recharge. Here are some other reasons it made number two.
The powerful battery has 36 volts that gives it a range of up to 60km. The average speed it can reach is an impressive 25km/h.
There are three levels of assist you can use. It is also easy to switch using the controls on the handlebars.
Fitted lights powered from the battery will give a great light beam during the dark nights.
This electric bike has all the features you would want from a powered cycle. It has a great battery and looks good thanks to its nice design.

Volt Alpine Review - Number 3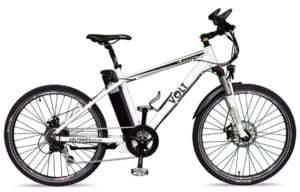 This beautifully designed bike from Volt is strong yet light and has a lot of great features that will impress. It has a powerful battery and a high powered motor that will give you a long range with each charge. Here are some of the other reasons it has made number three on the list.
Simple to use controls on the handle bars means no fuss or hassle when you need to turn on the lights or operate the gears.
There are up to six assistance levels for the motor so you can get the best possible level for you.
The powerful lithium polymer battery gives over 55 miles on a single charge. There are also options to add a bigger battery for over 80 miles.
A detailed LCD screen gives you all the information you need on battery level and speed.
This electric bike is well designed and strong, it will give you many miles of assisted peddling to get you where you want to go. With its flexible use and extendable battery, it is a very useful bike for any journey.
Verdict
The overall top spot has gone to the Cyclamatic Power Plus electric bike. With its well-made frame and powerful motor, it has all the features you will need to get you around. For anyone needing an electric bike, this is top of the list.