Product
Fastest Speed
Top Rated
Great Value
Fastest Speed
Product
Top Rated
Product
Great Value
Product
eBike Conversion Kit
Picture this: you're outside, getting a workout in, cycling around some interesting scenery and challenging roads. Your muscles are tense, your breathing is growing ragged, and there's a hill separating you from a cold glass of water at home.
Wouldn't it be nice to be able to give your body a well-deserved break and let the bike take over the hard work for a while? Well, with an eBike conversion kit fitted to your bike, this is now a reality!
eBikes are a fast-growing staple amongst adventure and leisure cyclists all over the world, and you could join the phenomenon too. Take a look at these top rated eBike conversion kits on the market today and see why they've made the list:
26″ 8 Fun Bafang eBike Conversion Kit Review – Our Number 1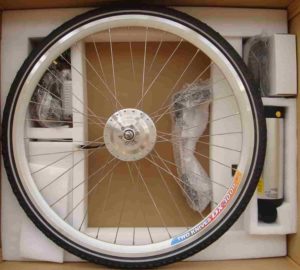 So you want to have the option between exerting your strength pedalling, and handing over the brunt of the effort to your bike when the time is right? The 8Fun Bafang eBike conversion kit gives you that option, and makes the transition easy. Let's check out some of the main features of this amazing product: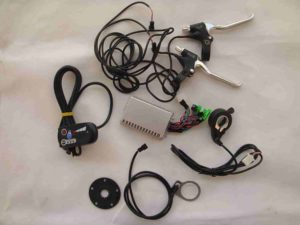 Powerful 36V lithium battery to ensure your momentum is maintained and your safety secured.
Intelligent 250W brushless front wheel motor for smooth motion and seamless transition between manual and electric riding.
Three riding modes: pedal only, assisted pedal, and full power motor. With these choices, you are fully equipped to take on any challenge and tailor your riding to your individual needs.
LED dashboard and thumb level throttle for increased comfort, safety, and peace of mind whilst cycling and changing gears.
If these super features haven't caught your attention, the guaranteed durability and easy maintenance will surely convince you. This kit is the epitome of eBike conversion technology. Go on… we know it's a showstopper!
Summary
Features: 36V lithium battery for momentum – 250W front wheel motor for a smooth ride – Triple riding modes – LED dashboard – Thumb level throttle for gear changes.
Pricing: High-end

ReaseJoy 36V 500W 26″ Rear Wheel eBike Conversion Hub Review – Number 2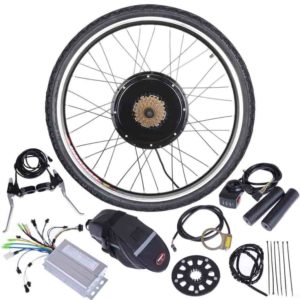 Efficient, reliable, and built from only the highest quality materials, this eBike conversion kit makes it to the top three list for good reason. Don't just take my word for it though; see below how the product's various functions and professional features speak for themselves: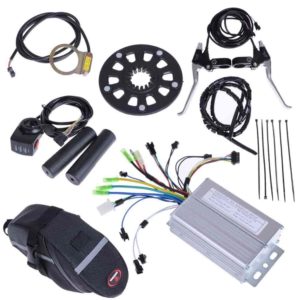 500W 36V brushless rear wheel motor for out of this world comfort, and impressive top speeds of up to 22KPH.
Thumb throttle for gear changes complete with LED indication lights for added security and clarity.
No moving chains or gears meaning friction is reduced and parts are less likely to sustain damage or break!
State of the art pedal sensors, and automatic motor shut off with application of the breaks.
If you still find yourself having reservations about this kit, never fear! The ReaseJoy 26V 500W conversion kit is also surprisingly easy to install, maintain, and charge, and the battery can be replenished in no time at all. Don't miss out!
Summary
Features: 500W 36V brushless wheel motor – Thumb throttle and LED displays for increased safety – No moving chains – Pedal sensors – Automatic motor shut off
Pricing: Mid-range

Voilamart 36V 250W 26″ Rear Wheel eBike Conversion Kit Review – Number 3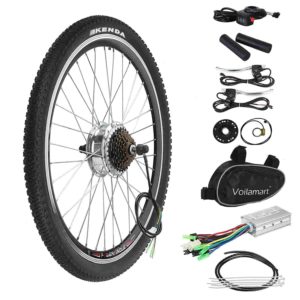 If you're looking for a kit that's not only durable, efficient, and easy to use, but also won't stretch the wallet strings too far, look no further than the Voilamart eBike conversion kit. The components are simple, hardy, and do not require a complicated set up, so you can be up and going in no time! Below are some of the main features and functions of this kit. Take a look: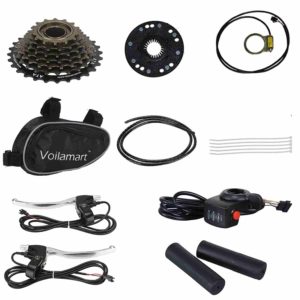 Professional pedal assist system (PAS) to ensure that you can keep going wherever you are and no matter how tired you become.
Automatic power cut of through application of the breaks to make sure no energy is wasted and that your safety is maintained.
Double walled alloy rim, and reinforced spokes to withstand tension and additional weight.
High international quality standards are observed and adhered to in all aspects of the product's performance.
This kit is suitable for a wide range of bikes, and can be used by cyclists of any age and capability. Coupled with the features above, and the affordable price tag, why would you pass up this opportunity? Make your riding experience exceptional!
Summary
Features: Pedal Assist System – Automatic power cut off – Double walled alloy rim – reinforced stainless steel spokes
Pricing: Affordable

Verdict
Hopefully you've been tempted into considering an eBike conversion kit purchase, but in case the above insight has left you overwhelmed or undecided, our recommendation is the ReaseJoy 36V 500W 26″ Rear Wheel eBike Conversion Hub. The sleek design and added features make it a definite winner. What are you waiting for?