West Hill Ghost E-bike
The rapid and widespread popularity of e-bikes is a sure sign that e-bikes are here to redefine how people commute to work/school and haul cargo.
As the bikes continue having a significant impact on European urban streets, there's a group of consumers eager to know how they work and how to choose one. Electric bikes offer a practical yet affordable way of getting around a place where other transport means seem ineffective.
Imagine how convenient it is for a delivery guy to attend to client's orders or a college student to rush through traffic trying not to miss a class using an e-bike. This review focuses on West Hill Ghost as an electric bike known for its brilliant design. Before going into the details about this product, here are some fundamentals about e-bikes.
Why Buy an E-bike?
Having an apparent reason for investing in an e-bike is crucial if you want to get the best out of your rides. Every biker's goals are different since they reflect the personal challenges that an electric bicycle can handle. Regardless of your motives, it's best to know that e-bikes help make day-to-day commuting easier. Say goodbye to the long hours spent in traffic trying to get home after a busy day at work.
It's common to wonder how an electric bike can help you stay fit. The mechanism behind electric bikes is that they partially rely on pedalling for them to move. Yours may allow you to switch between electric and manual modes at any given time. If your goal is to remain physically active while using an e-bike, get one suited for such a purpose.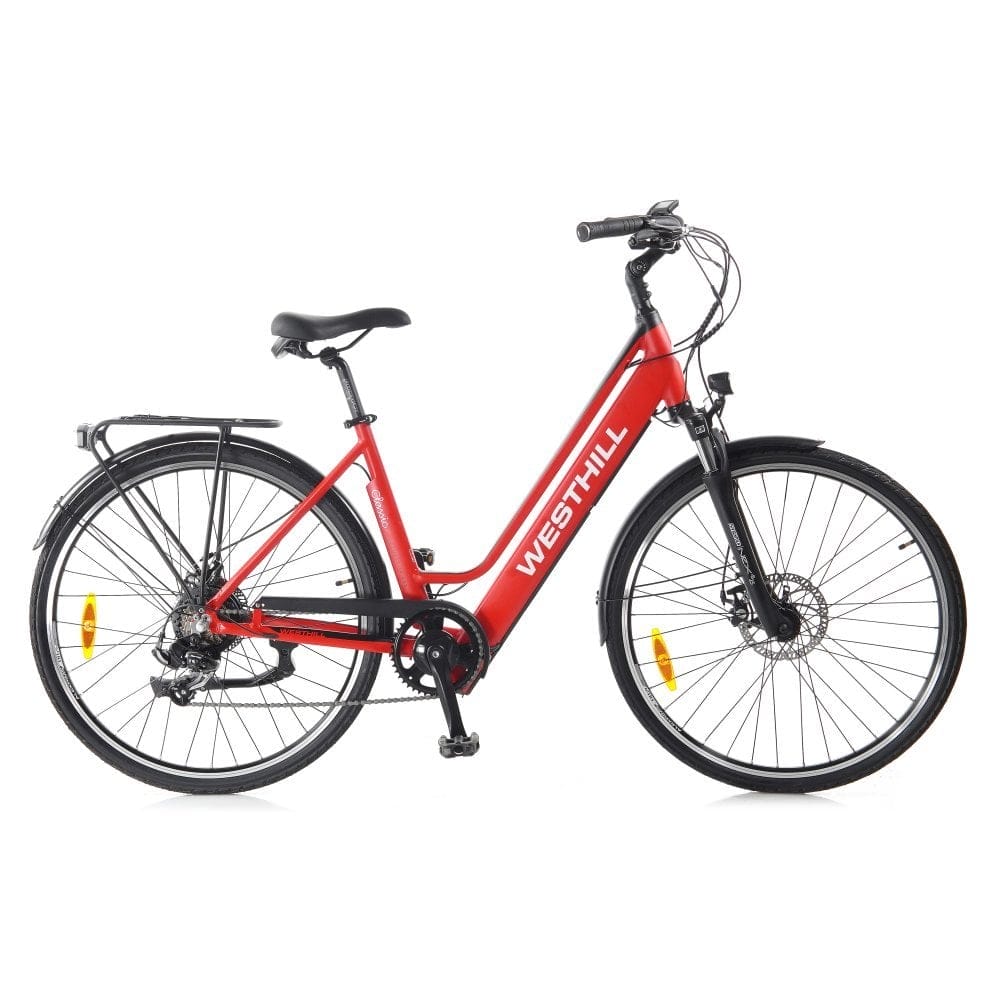 What Factors Should You Consider When Buying One?
Take time thinking about the features you need the most in an electric bike before getting one. Consider the number of times you'll be using the machine in a day and distances to cover. Your weight and height will also matter since e-bikes weigh between 17 to 25 kg. Will you be ferrying children or carrying luggage with your bike?
Once you ask yourself these essential questions, decide on whether to buy the bike or not when its features (as discussed below) match your expectations.
Type of sensor - Sensors fitted in electric bikes are usually in sync with pedaling patterns. A motion sensor will trigger the motor after 2 or 3 pedal rotations while a power sensor will start the engine once you begin pedaling.
Mechanical power - A high torque motor can deliver at least 25Nm of mechanical power. The performance of an e-bike will depend on the motor's position rather than the motor's power.
Brakes - Hydraulic brakes are far most the safest brakes to use when travelling at high speeds. You may also choose a motor brake, which allows the bike to recharge the battery when recovering from a braking instance.
Battery autonomy and composition - The battery should be detachable to make it easy to charge it. Factors such as temperature, terrain type and weight will determine the durability of a battery on a full charge.
Rear-view mirror - E-bikes need rear-view mirrors (just like regular bikes) to ensure approaching vehicles keep a safe distance.
Protective gear - It's highly advisable to wear a helmet as part of your protective gear when riding an e-bike. A reflector jacket would also help inform approaching motorists for them to avoid colliding with your bike.
What Makes West Hill Ghost a Brilliant E-bike?
West Hill Ghost comes with a large-sized (centrally located) computer to guide you through your rides and help monitor the battery level. The e-bike boasts of 9 levels of pedal-assisted modes, which include walk and manual assistance. As its name suggests, West Hill Ghost has a cleverly hidden battery, which lies within its frame. West Hill Ghost outshines electric bikes that once tried this approach and ended up having over-sized frames with its 19-inch aluminum frame.
With a total weight of 18.5kg, West Hill Ghost ranks as one of the lightweight electric bikes in the market. Besides its weight, the machine boasts of a 36v 7.8ah Li-ion Samsung battery capable of powering a 30-mile ride. West Hill Ghost is an ideal bicycle for riders who enjoy light mountain climbing and road cycling. It also features a 250w brushless motor of 195RPM, disc brakes and 21-speed Shimano gears.
Pros
Stylish (a lightweight bike with appealing parts that complement the user's apparel or fashion)
Smart design featuring an integrated battery, which provides perfect weight distribution, maximum comfort and unrivalled balance
High-performance hub motor, which is ideal for day-to-day commuting or leisure rides
Ability to fine-tune the 9 power levels to comfortably cope with outdoor conditions and get the most out of your workouts
Battery options (10.4Ah set between 20 and 40 miles and 14Ah set between 25 and 55 miles) allow you to customise your needs depending on the level of assistance, weight carried and existing conditions
Rear and front lights (powered by the rechargeable battery) guarantee visibility in dull or dark environments/situations
Cons
Limited to light mountain climbing and road cycling
Doesn't deliver much when it comes to distance covered and pace used covering the distance
Low mileage on a full charge (travels about 30 plus miles on a full charge while its competitors cover 40 to 50 plus miles per charge)
Though its name may sound scary at first, West Hill Ghost is a classic red step-through electric bike suited for your daily adventures/commute. With great attention to detail, the e-bike delivers a brilliant design featuring an integrated battery and a high-power hub motor. West Hill Ghost manages to stay competitive with its good specs, large computer, lightweight and cleverly-hidden computer.
Special price for a Christmas only - normal price £1279
3 levels of pedal assist from quality 250 watt brushless motor
Powerful 36v 10Ah Lithium Ion Battery 60km+ range 3 Year limited Warranty
26" wheels with RST Front shocks, lightweight Aluminium frame CE & TUV
This is a top quality bike on sale for Christmas only and not to be confused with other similar priced products!