Should You Buy The Carrera Crossfire 2 Hybrid Bike?
For people who want an affordable bike that can take them on the tarmac and off the tarmac, this Carrera Crossfire 2 Hybrid bike is worth checking out. 
The Carrera bike has exceptional features for its price such as a Suntour front fork and 24-speed Shimano gearing and is available for both men and women with different frames from Halford's. 
So to see if this budget hybrid bike is right for you we have reviewed the bike in better detail below, breaking its components down one by one to help you make a decision. 
Great Value For The Money
Lightweight frame
Shimano gears with 24-speed
Tires with Puncture Protection
Suntour 75mm adjustable front suspension
700c rims with double walls
Memory Foam Saddle by Carrera
What Is a Hybrid Bike?
If it's your first time looking at buying a hybrid bike then you might be wondering how this sub-£500 hybrid bike differs from other cheap road bikes and mountain bikes. 
Well, a hybrid bike is a mix of both road bike models and a mountain bike, they are often used most for commuting and have a flat handlebar with similar gearings and mechanical brakes like a mountain bike.
Hybrid bikes often have larger chunky tyres too for tackling a variety of surfaces. 
You will often find that a hybrid bike will lean more towards a mountain bike or a commuter bike depending on the wheel size, hybrid bikes which have a wheel size of around 700c are better suited for commuting while larger wheels of around 26-inches are best for off-roading.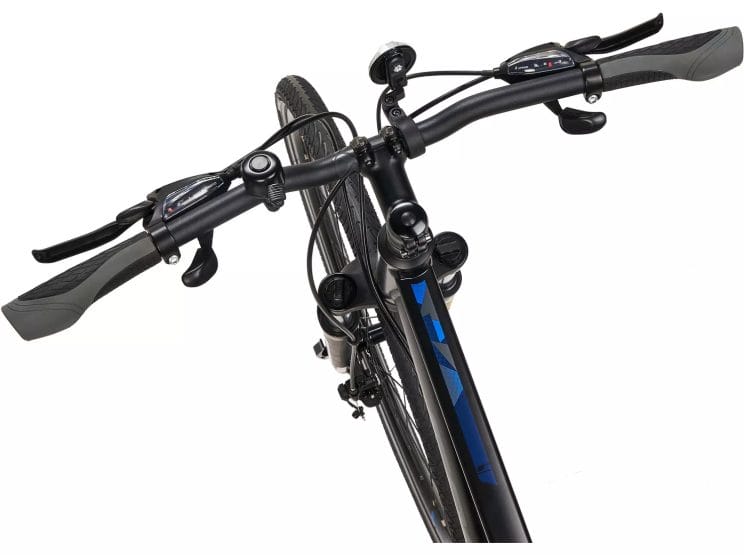 What Is the Difference Between The Carrera Crossfire 1 & 2?
If you have already seen Carrera's first-generation Crossfire e-bike then you probably know this budget bike got a serious makeover when it comes to its bike tech. 
The Carrera Crossfire 2 differs from the first generation hybrid bike range as it has mechanical disc brakes rather than V brakes, fork travel and a wide range of gears to play with when taking the hybrid bike off-road. 
You can also find the Carrera Crossfire in an electric bikes version if you are looking for assistance. 
Our Review Of The Carrera Crossfire 2 Hybrid Bike
Now we know the difference between the Carrera Crossfire 1 & 2 and what type of bike the Carrera Crossfire is we can get on to reviewing this adult bikes model below. 
Frame
Let's start with the most important component of this hybrid bike, the frame. The hybrid bike uses a lightweight aluminium frame which has a relaxed frame styles geometry that allows the rider to sit in a relaxed upright position with the flat handlebars. 
For a comfortable ride, the hybrid bike has a Suntour NVX suspensions fork with 75mm of travel to block out any bumps when road cycling. For the saddle, the hybrid bike uses a Carrera memory foam saddle and alloy handlebars. 
The whole frame gas a bike weight of 15kg.
What We Think
The frame of this Carrera hybrid bike is not the most aesthetically pleasing but does the job. The front fork suspension is a nice touch for off-roading and in terms of comfort, the saddle and geometry of the bike is great for riding longer distances. It's bike weight being light is ideal for commuting too.
Its overall look is where the frame disappoints, with external cable routing making the bike look messy, it also does not have a lockout suspension which would be useful for road cycling, but all in all, it is still a durable pleasing bike.
Wheels & Tyres 
The tyres of the Carrera hybrid bike have K935 Kenda puncture protection tyres which are a perfect commute companion but also for extra grip off-road, coming in a 900c size. The wheels use 32-spoke double-walled rims which do offer more durability.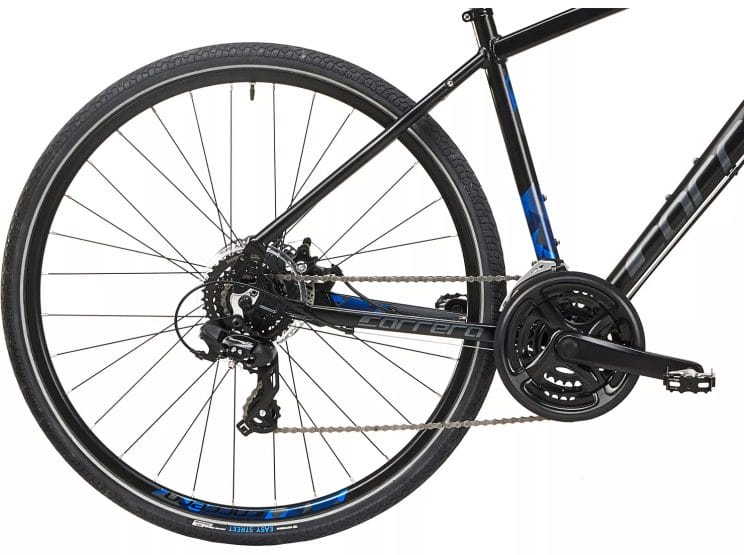 What We Think 
For a daily commute bike ride, the bike wheel sizes are pretty standard road bikes and their tyres offer fairly good decent grip off-road, they do however perform less well on tarmac surfaces or where terrains start to get slippy. 
You can always switch them out to something more suitable according to the type of bike cycle you will be doing. 
Brakes & Gears 
Upgraded from the first edition of the Carrera Crossfire, the Crossfire 2 offers mechanical disc brakes for even better stopping power on surfaces and reduces wear down on the rims of the bike, when combined with the suspension forks on the bike it will stop the bike from jerking when the brakes are pressed. 
For smooth gear change, the Carrera bike is equipped with the 8-speed gearing Shimano Tourney TX800 which offers 24-speeds for tackling all terrains when riding. 
What We Think
Although the Shimano 8-speed, 24-gear set is not top of the spec, it is pretty decent for the price range of this Carrera bike, although they can skip a few gears sometimes when changing uphill, we would have liked to see the Shimano Tourney and Shimano Altus used together on this one.
The mechanical disc brakes are not as good as hydraulic disc brakes but still offer a good level of power, they can make quite a lot of noise when they get wet, however. 
Accessories
Some accessories included with the Carrera Crossfire 2 are mudguard mounts and pannier rack mounts, allowing you to make the hybrid bike into any kind of bike you want. It also has a lifetime frame guarantee for buyers confidence.
What We Think
The mounts for accessories make this affordable bike more versatile, although you need to purchase them all separately, which is why it keeps its budget price.
How Does The Carrera Crossfire 2 Perform? 
When riding the Carrera Crossfire 2, you can feel the good value of the frame and its geometry supporting you as you are riding, the memory foam saddle gives an extra layer of comfort and the Shimano gearing allows you to change speeds smoothly. 
We did think the Suntour suspension fork gave a little bit of a dulled ride on road surfaces and the brakes were pretty loud during wetter weather too. In terms of speed, the geometry does make you feel as if you are going slower, but also keeps the balance bike stability.
Pros
Great suspension for off-roading
Comfortable saddle
Comfortable handlebar grips
Reliable brakes
Good for climbing hills
Cons
Can skip a few gears when changing
Clicking sound on the pedals
Is The Carrera Crossfire 2 Worth It? 
For people who want a comfortable, durable all-rounder bike, the Carrera Crossfire 2 is 100% worth it, although the bike does not have top of the range specs it performs well as an affordable road bike thanks to its geometry and can be used on light trails too with its Kenda tyres and Suntour suspension. 
We would not suggest getting the Carrera Crossfire 2 if you are looking for a speedy bike however due to the alloy frame geometry and wheels if you are after a powerful mountain bikes model you are better off looking at Carrera's hybrid e-bikes which house more power due to their motor assistance. 
FAQs About The Carrera Crossfire 2 
What gearing does the Carrera Crossfire 2 have? 
The Carrera Crossfire 2 features 8-speed bike groupsets from Shimano Tourney and has 28-speeds, there is not a Shimano Altus on the front, but this is reflected in the bikes budget price.
Do Carrera have a bigger hybrid bike range?
Yes, the Carrera Crossfire 2 is not the only hybrid bike within its range, there are also the Carrera Parva which is more mountain bike orientated and has a 14-speed Shimano gearing set. The Carrea subway bike is also part of its hybrid bike range with the men's size getting hydraulic brakes.
How much does the Carrera Crossfire 2 cost? 
Currently (at this point in time), the Carrera Crossfire 2 costs £360 from Halford's.
Is there a Carrera Crossfire 3? 
There is indeed an all-new Carrera Crossfire 3, this bike shares similar wheels and an alloy fork to the second generation bike except for housing some higher-quality specs such as hydraulic disc brakes and an 18-speed Shimano Altus gearing system.
How do hybrid bikes differ from electric road bikes? 
Hybrid bikes have flat handlebars and more of a mountain bike frame geometry, they feature chunkier tyres too and often have a wider range of gears than a standard road bike. 
Does Carrera have a mountain bike range?
Yes, if you are looking for more of a mountain bike then Carrera do offer a sole mountain bike range, some notable models from the line-up are the Carrera Valour which has a 14-speed gear setup, the Carrera Vengeance, Carrera Hellcat and the Carrera Vulcan.
Are mechanical brakes better than hydraulic disc brakes? 
Compared to most conventional brake types, hydraulic disc brakes are the winner as they offer the best stopping power of all, but disc brakes are still decent on affordable bikes as long as your not doing any crazy off-roading.
Can I use the Carrera Crossfire on hard terrain? 
We would not recommend using the Carrera Crossfire 2 for extreme off-roading as its hybrid design is made for only light off-road use.
How much does the Carrera Crossfire 2 weigh? 
The Carrera Crossfire 2 has an alloy lightweight bike frame, coming in at only 15kg. 
Final Words 
Overall, the Carrera Crossfire 2 is not the most fantastic looking bike but is still of good value for commutes and light trail riding, it is within most peoples budget and has a great geometry for biking beginners which does not lead to fatigue.
Avoid this bike if you want a very fast and powerful bike for use mostly on technical terrains.
Great Value For The Money
Lightweight frame
Shimano gears with 24-speed
Tires with Puncture Protection
Suntour 75mm adjustable front suspension
700c rims with double walls
Memory Foam Saddle by Carrera