Should You Buy The Carrera Subway Electric Hybrid Bike?
For people who want an affordable electric bike that is perfect for a weekend adventure or a commute, the hybrid Carrera Subway electric bike is worth considering. 
With its lightweight frame and a 40-mile range, it's not hard to see why this is one of Carrera's most popular hybrid bikes on the market. 
So to see if this electric bike is right for you or not we have reviewed it in more detail below. 
Perfect E-Bike for Beginners
Fully removable battery
Up to 40 miles of range
Only 5-6 hours to recharge
Hydraulic disc brakes with 180mm rotors by Tektro
Shimano Altus SL M-2000 9-speed gears
Lightweight hybrid alloy frame
Maximum torque of 60NM
Multifunctional Suntour OLED display
Adaptive cadence sensor
Our Review Of The Carrera Subway Electric Bike 
From the motor to the frame, there is a huge range of advantages and disadvantages to the Carrera Subway electric bike, to make your decision a little easier, we have broken up the e-bikes components down below and reviewed them all individually. 
Electric Components 
Motor 
For the motor this Carrera Subway electric bike uses a rear hub Suntour Performance 36V electric motor, this is located on the rear wheel of the bike for even more natural assistance. It can reach up to 60Nm of torque. 
What We Think
Similar to most of the other Carrera range this subway electric bike uses a Sun tour motor which is a reliable choice, the motor power is more than enough for light rail riding and keeps the bike within UK legal limits. 
We also love the torque sensor assist from the motor, giving a natural response when you push the pedals of the e-bike. 
Battery 
In terms of the battery, the Subway electric bike is equipped with a semi-integrated battery that has a capacity of 317Wh/9Ah and can potentially reach a range of up to 40 miles. 
It also has a BMS system inside of the battery to keep it healthy and prevent issues such as overheating.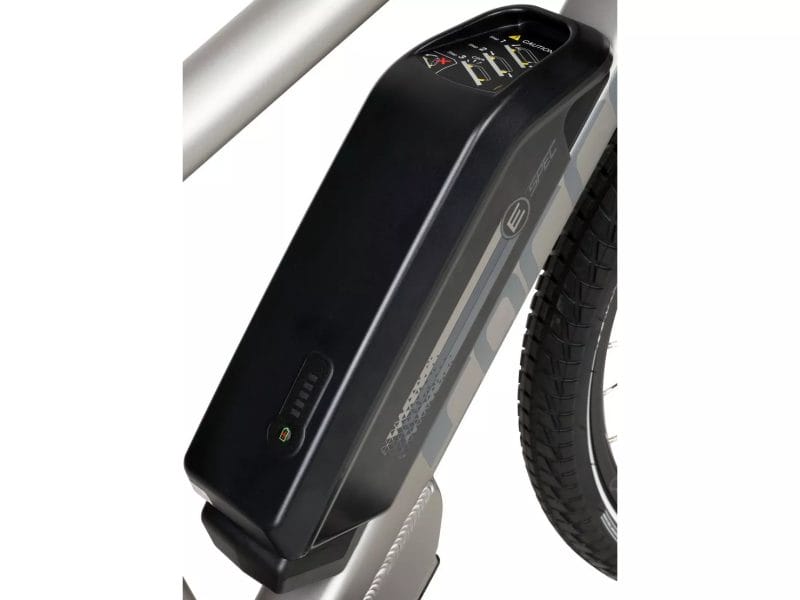 What We Think
Overall, the battery of the Subway bike is not of the hugest capacity but is enough for a decent range 30-mile ride or commute, you might have to recharge the removable battery in between journeys, however. 
PAS/Display
A Suntour OLED multifunctional display is used on the Hybrid bike which shows the four different PAS levels ranging between eco, tour, sport and turbo depending on the assistance you need.
What We Think
The decent range of PAS modes on this bike is great, the LCD, though, is pretty basic and can be hard to see during daylight, we put this down to it being a budget bike, however.
Bike Components
Frame 
This Carrera bike is equipped with a lightweight alloy frame and has a rigid front fork made of chromyl steel for durability, it is available in 16-inch, 18-inch and 20-inch sizes. Total weight of the hybrid bike is around 18kg.
What We Think
The suspension of this hybrid bike is a little disappointing, but its lightweight is excellent for commuting with and the frame can handle a range of surfaces thanks to the Chromyl steel.
Brakes & Gears 
For brakes, the hybrid bike is fitted with Tektro hydraulic disc brakes which have 180mm rotors, it also uses a 9-speed Shimano Altus SL M-2000 wider range cassette for gearing. 
What We Think
In terms of value for money, the brakes on this e-bike are very high-spec and provide reliable stopping power no matter the surface, the gearing on this hybrid bike is a little basic however, we wouldn't suggest taking it out difficult terrains because of this.
Wheels & Tyres
For the wheels and tyres this Subway bike uses 27.5" x 1.95 Kenda K-841 Reflective tyres, this is a decent size pair of wheels for extra comfort when off-roading. The front wheel has a double-walled rim with a quick-release skewer. 
What We Think
The wheel size of this e-bike is the perfect mix between 26-inch and 28-inch wheels, the Kenda tyres are also not bad value for money, but for harder trails, you might want something more puncture resistant. 
How Does The Carrera Subway Perform? 
When riding the electric hybrid bike you do feel a slight lag in between the crank torque sensor and motor, but nothing to be too concerned about, the e-bike generally rides easily on all surfaces thanks to its larger wheels and the hydraulic brakes make you feel confident. 
We did achieve a range of around 30 miles rather than 40 but this does depend on other variable factors too.
Pros
Lightweight Frame
Rides easily on all surfaces
Easy to change gears
Great for uphill
Feel safer with hydraulic brakes
Cons
Actual battery mileage 20 - 25 miles
Small display
Is The Carrera Subway Electric Bike Worth it?
To conclude, the Carrera Subway electric bike is an affordable hybrid bike that is perfect for e-bike beginners who want both a road bike and trail bike in one design. Sure, the range is a little limited and the gearing system but is what to expect in a bike for around the £1000 mark. 
If you want a powerful mountain bike then we would suggest going for a bike with mid-motor or one of Carreras more powerful bikes such as the Carrera Vulcan electric bike.
Perfect E-Bike for Beginners
Fully removable battery
Up to 40 miles of range
Only 5-6 hours to recharge
Hydraulic disc brakes with 180mm rotors by Tektro
Shimano Altus SL M-2000 9-speed gears
Lightweight hybrid alloy frame
Maximum torque of 60NM
Multifunctional Suntour OLED display
Adaptive cadence sensor