Should You Buy The Carrera Vengeance E-Bike? - Our Review
If you are after a sporty e-bike and you are on a budget, then the Carrera Vengeance mountain bike is certainly worth checking out.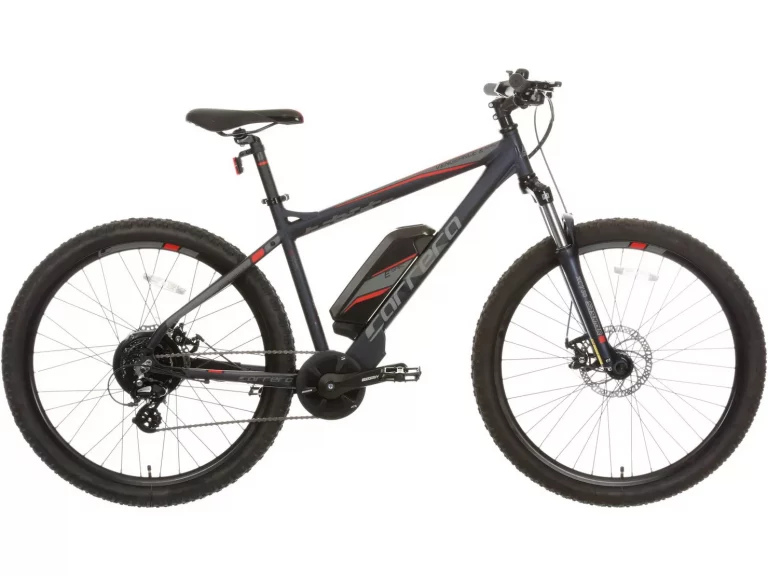 From Halford's range, the Carrera Vengeance mountain bike features a smooth Suntour rear hub motor with a 22-inch frame and an excellent suspension for mountain bikers to ensure a comfortable ride. 
But is this Vengeance electric bike worth it? Well, we have reviewed the e-bike in detail below, breaking up its main components to see if the e-bike specs are up to scratch. 
Let's get into it!
Best Budget Mountain Bike
Fully removable battery
Up to 40 miles of range
6 hours to recharge
Mechanical Tektro disc brakes with 180mm rotors
8-Speed SRAM gears
Multifunctional Suntour OLED display
Cadence sensor with intuitive design
Aluminium frame for lightweight design
Who Is Carrera? 
Carrera electric bikes come from Halford's electric bike range, the Carrera brand is extremely popular in the electric road bike and electric mountain bike industry, they create modern electric bikes with the latest specs, focusing on value for money, whether you are a beginner e-biker or and advanced. 
This brand has created a great range of electric bikes for different riding purposes, with some of the most notable being the Carrera cross-city, Carrera Parva, Carrera Titan and the Carrera subway electric bike for a perfect hybrid model. 
In their MTB range, the Carrera vengeance E is now one of their most popular Carrera's full-suspension mountain bike.
What Is The Difference Between The Carrera Vengeance & Vengeance E?
If you have been looking into the Carrera range, then you've probably noticed the Vengeance E stems from the original Carrera vengeance model. The only difference between the two bikes is that one comes electric and the other one doesn't! 
The Carrera Vengeance E is compared most similarly to the Carrera Vulcan-E in fact as they use the same frame design but differ in a few other features. 
Our Review Of The Carrera Vengeance E Mountain Bike 
Now we know where the Carrera Vengeance E-bike comes from we can start reviewing it part by part below to see if it's worth investing in this electric mountain bike.  
Electric Components 
Motor 
For the motor, the Carrera Vengeance E is equipped with a rear hub Suntour HESC 250w geared motor paired with a cadence sensor system to produce smooth power. 
This allows the bike to stay more seamlessly designed as it is integrated into the rear wheel providing torque directly while the cadence adjusts the sensitivity of the assistance from the electric bike according to how the user is pedalling. 
What We Think
The rear hub motor design on this bike paired with the cadence sensors keep the mountain bike ride natural as soon as you begin to pedal, however, we are sad to see that unlike the Carrera Vulcan this electric bike does not have Suntour's active torque sensor system which could have made the assistance even better, this is probably down to the Vengeance's more affordable price, however.
Battery 
Now let's move on to the battery of the electric bike, the e-bike is fitted with a semi-integrated Suntour STL battery which has a capacity of 317Wh/9Ah giving an estimated battery range of up to 40 miles depending on the power assist level used. The charging time of the battery is said to be around 6 hours.
The bike's battery additionally has a BMS system to help prolong its lifespan and a two-year warranty for buyers confidence.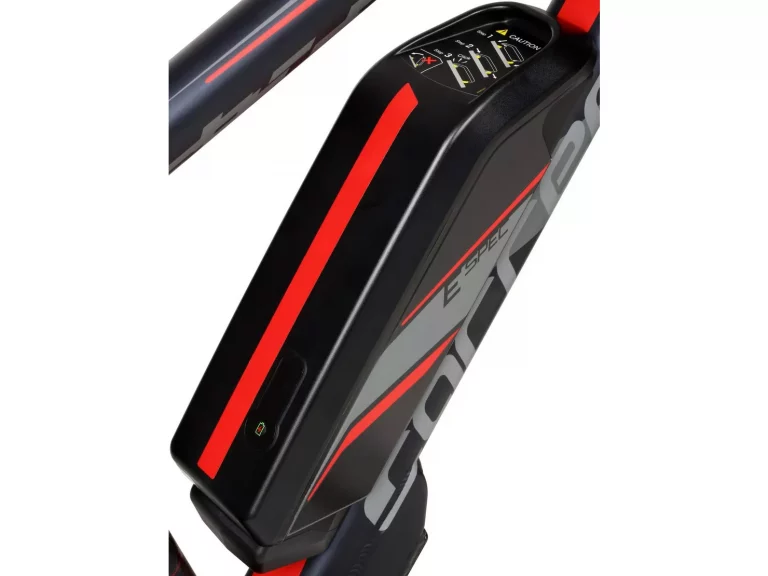 What We Think
Realistically, the battery of this Carrera Vengeance e-bike could be better, the bike is estimated to have a broad range of 40 miles, but this does depend on external factors, and in real-world life application you are likely to see more of a range between 20-25 miles. 
Compared to other mountain bike range batteries on the market this will only do you around half a day ride, the charge is also reported to be difficult to plug into the bike.
PAS/Display
Four power assist levels come with the bicycle for mountain biking including; eco, tour, sport and turbo with 50Nm of torque from the motor to help with cross-country mountain biking uphills. The Suntour OLED multifunctional display included on the bike shows its basic power levels and metrics such as speed and distance.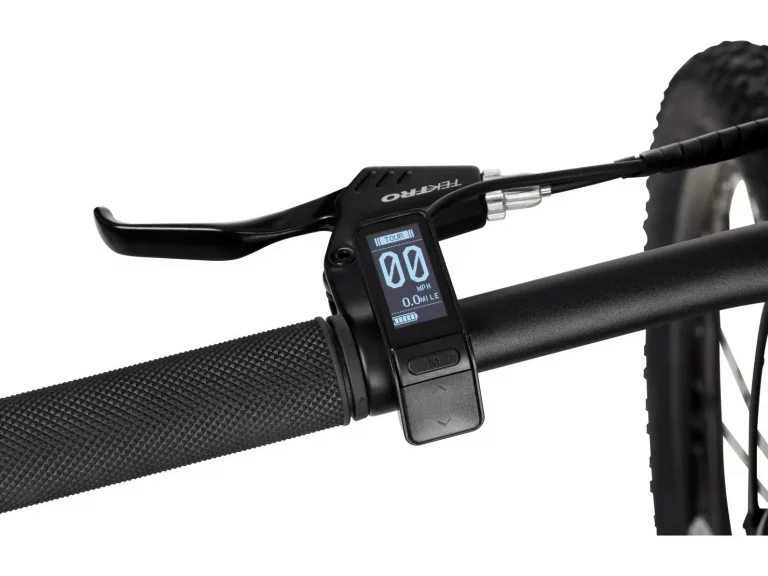 What We Think
For the price the power levels and display included with the bike are pretty basic, the assistance itself is smooth thanks to the motor and it does have some great modes such as eco mode. 
The Suntour OLED multifunctional display itself is pretty poor however compared to other budget spec mountain bikes on the market. 
Bike Components 
Frame 
Frame-wise, the decent hardtail mountain bike sticks with an alloy frame that weighs around 22kg. It is integrated with a Suntour XCT fork with 100mm fork travel and a lock-out feature for better comfort when leisure-style mountain biking. 
Coming in a sleek grey colour the alloy frame is pretty nice to look at, with a relaxed geometry and a wider dropout to help accommodate the Suntour motor. It uses a Carrera MTB comfort saddle and flat handlebars to help with its off-road capability. 
It has frame options of both 18-inch and 20-inch.
What We Think
The suspension forks included with this budget hardtail e-Mtb are more than enough for casual mountain biking and fit the price range of this electric bike, they are not built for downhill mountain biking, however. 
Considering the motor and battery of this e-bike its weight is also pretty impressive with most mountain bikes coming in at a weight of around 27kg. The lightweight frame is also durable with its reinforced gussets. 
Brakes & Gears 
For the brakes, the Carrera Vengeance E is using Tektro mechanical disc brakes with 180mm rotors for stopping power, this is accompanied by its 38t front chainring which has an 8-speed rear cassette. It uses a Shimano RD-M310 rear derailleur and a Shimano Altus shifter.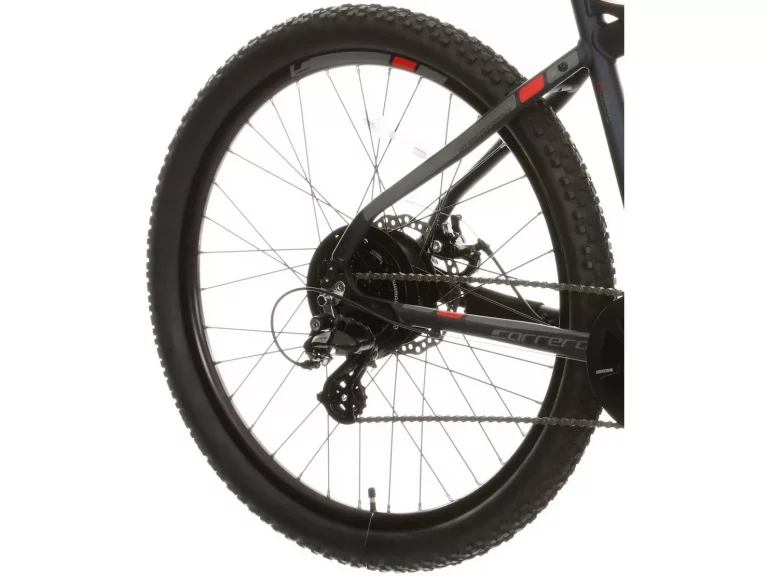 What We Think
So, the mechanical disc brakes of this electric bike are not 100% the best in comparison to hydraulic disc brakes, but for the price point of the mountain bike, it is suited and will give more than enough stopping for average mountain biking use, we would not try anything extreme with them, however. 
For the gear range, the electric bike has pretty basic gear shifts and the range of gears lacks a lower bottom range of gears which does reduce the hill-climbing ability of the electric bike. This is understandable for a mountain bike on the £1000 mark. 
One up-side of the SRAM chainset & gear system and Shimano Altus on this e-bike is that they are easy to replace if they manage to get broken.
Wheels & Tyres 
In terms of the wheels and tyres, this mountain bike has 27.5" wheels with 2.1" Kenda K1027 tyres, it is equipped with double-walled alloy rims too and has large spokes at the back.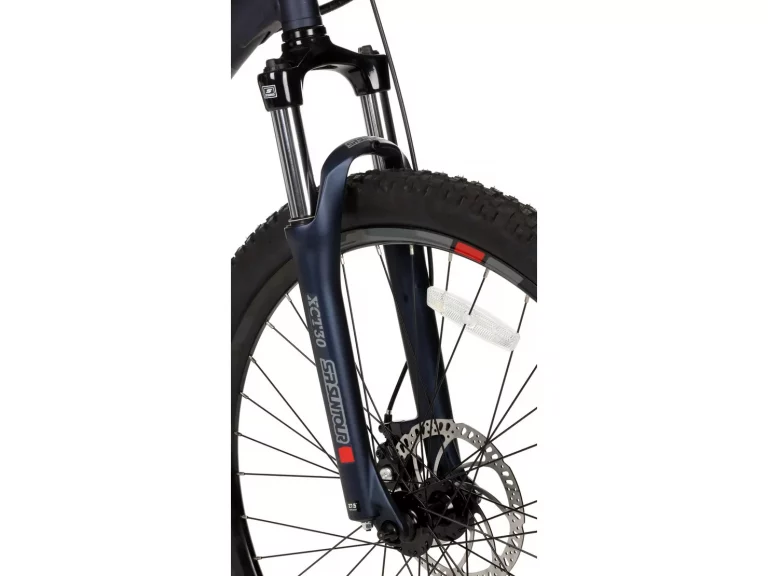 What We Think
The Kenda tyres on this electric provide excellent grip on uneven surfaces and are standard on most budget point electric mountain bikes, they are puncture-resistant too, and you can always switch them out if you want some higher quality tyres. 
Its double-walled alloy rims are pretty great for long-term durability as a road bike buyer. 
How Does The Carrera Vengeance E-Bike Perform?
When it comes to riding the Carrera Vengeance E-bike you can indeed feel just how smooth Suntour motor and cadence sensors are, the eco mode was powerful enough for most uphills and the motor stayed quiet on low power levels but did start to make a noticeable sound when used on maximum power. 
Its consistent gear shifting was smooth and exceeded most hardtail models with this price point despite not having the most extensive range of gears.
The biggest downfall of the Carrera bike has to be the battery pack, after riding the bike on a few inclines, the while bike only lasted a 20-mile trip, the estimated 40 miles range was off-limits. The travel fork failed to help cushion large bumps too.
Pros
Excellent grip on uneven surfaces
Puncture-resistant
Perfect for climbing hills
Cons
Not built for downhill mountain biking
Doesn't do the advertised 40 miles. Actual range between 20-25 miles. 
Is The Carrera Vengeance Mountain Bike Really Worth It?
Overall, to conclude our review of the Carrera Vengeance E mountain bike, we think this electric bike considering its price, is a steal for anyone who's looking to get a budget electric mountain bike. Its components are not the highest quality and it does lack raw power, but as we said, at this price point we expect this. 
If you can understand the compromise of not having hydraulic disc brakes and an extensive battery range for a lower price, then this Carrera bike is a perfect choice for the average leisure mountain biking. 
We would not suggest that this mountain bike is worth it if you are looking for a serious mountain bike that can handle hard drop-offs and have an extensive battery range. If you are a mountain bike buyer who wants a more powerful model, consider checking out the Carrera Vulcan E instead, which uses hydraulic disc brakes instead of mechanical disc brakes and has a better battery range. 
FAQs About The Carrera Vengeance Mountain Bike 
How much does the Carrera Vengeance mountain bike cost? 
The Carrera Vengeance mountain bike has a price of £1,000 currently on the Halfords site, making it a budget-friendly mountain bike.
What is the Carrera Parva bike?
The Carrera Parva bike is one of the hybrid affordable road bike models from Carrea, making it perfect for light off-trail riding and road cycling. It is not an electric bike, however. For an electric hybrid bike try checking out the Carrera Subway electric bike.
Is the gearing system on the Carrera Vengeance mountain bike good?
The e-bike uses Shimano Altus gearing with a close-ratio cassette, by all means, this is good for the price but it's slightly limited compared to other budget mountain e-bikes on the market.
Does the Carrera Vengeance have an all-carbon fork? 
No, the Vengeance e-bike features a Suntour alloy fork which has 100mm of travel making it suitable for average off-road use. 
What is the difference between the Vulcan mountain bike and the Carrera model?
The Vulcan mountain bike from Carrera has the same alloy frame as this e-bike but gets a serious spec upgrade when it comes to the battery and gearing, as well as the brakes, making it better for actual power when mountain biking. 
What size frame styles do the Carrera bike come in? 
Right now you can buy the Carrera Vengeance bike in an 18-inch and a 20-inch size depending on your height.
Can you ride 50-60 miles with the Carrea Vengeance? 
Despite the Carrea Vengeance having a 40-miles estimated range, the battery is more limited to a range of 20 miles when riding, that's when used at its stretch of max power with incline trails, the battery range is slightly limited on this bike.
Final Words
Overall, the Carrea vengeance mountain bike is a great value budget mountain bike, with mechanical brakes, a rigid fork and a Shimano Altus gearing system, making it suitable for average off-terrain riding and perfect for any e-bike beginners. 
When using this electric bike we would stick to smoother trails and not be tempted to try and crazy technical mountain bike riding with this model as it does have basic components, also make sure you check with the battery capacity indicator often, as this bike's battery is not the best in range.
Best Budget Mountain Bike
Fully removable battery
Up to 40 miles of range
6 hours to recharge
Mechanical Tektro disc brakes with 180mm rotors
8-Speed SRAM gears
Multifunctional Suntour OLED display
Cadence sensor with intuitive design
Aluminium frame for lightweight design