Gtech eScent Mountain e-Bike
Electric mountain bikes target leisure commuters/cyclists and hardcore mountain bikers among other users. When using an e-bike for leisure, you may want a bike with some off-road capability, which comes handy in times of need. Out of all the e-bikes out there, only a few promises to deliver this benefit with maximum efficiency. With Gtech eScent, you get to have more fun as a leisure commuter/cyclist.
Find out more about everything Gtech eScent, a lightweight yet bulky electric mountain bike delivers to a biker.
Why Buy an Electric Mountain Bike?
E-bikes help reduce the pressure and effort needed by a commuter/cyclist when trying to ride through terrains of different textures. They have a motor powered by a rechargeable battery to amplify your pedalling inputs. Expect them to be significantly heavier than the traditional ones. Regardless of their weight and unique design, they make cycling much comfortable and enjoyable.
Most of them feature up to two-speed options to adjust the motor speed to your preferred level. They also feature a hard exterior adapted to outdoor conditions. Some e-bikes like Gtech eScent cope well when rode on muddy patches, uneven surfaces or fallen branches. You may find one suited for downhill cycling or another suited for less steep slopes.
What Factors Should You Consider When Getting an Electric Bike?
One of the toughest decisions you can make as a biker may involve choosing an e-bike with impressive features. Are you looking for one with a lightweight design, minimalist frame and hydraulic disc brakes? Do price, design, battery life and charging time make up the factors to consider when choosing an e-bike? Read on to discover which of these factors need the most urgent attention.
Brake type - The type of brake an e-bike has determines the amount and extent of effort you'll need to apply to stop the bicycle from moving

Battery life - A good

electric bike

should have a battery capable of facilitating long-distance rides. A battery runs out quickly may inconvenience you when stuck in a steep slope and cycling isn't a better option

Battery type - Though lithium-ion polymer batteries are the most common

battery type,

other types used in e-bikes include nickel-cadmium, nickel-metal hydride and sealed lead-acid

Frame construction - The bike's frame construction should consist of a rust-resistant coat, which helps increase the durability of an electric mountain bike

Wheel Size -  Wheels with larger diameters tend to cover more distance than those with smaller diameters

Voltage - The charging system of an e-bike should correspond (in terms of voltage) with the electric power outlet it uses for charging

Charging time - The average charge time the battery of

an e-bike

can have is 3 hours, which is ample time for a 30-mile ride
What's Gtech eScent Electric Mountain Bike Best Suited for?
With a 27.5-inch wheel type and 2.3-inch off-road tyre type, Gtech eScent is an electric mountain bike built to last. It takes at least three hours to charge its lithium-ion battery suited for leisure cyclists and commuters. Instead of a rear suspension, the e-bike features mudguards, which make it ideal for muddy terrains. Gtech eScent may suit your lifestyle if you're looking for an electric mountain bicycle you can ride off-road.
Gtech eScent weighs only 19 kgs, which is an ideal weight for mid-market e-bikes. It boasts of a good-quality front suspension, hydraulic disc brakes, a minimalist frame and a suspension saddle for ease of use. Its motor and battery are capable of facilitating a distance of up to 30 miles on a full charge. Though Gtech eScent may seem bulky at first sight, it can maintain an excellent grip when manoeuvring around obstacles.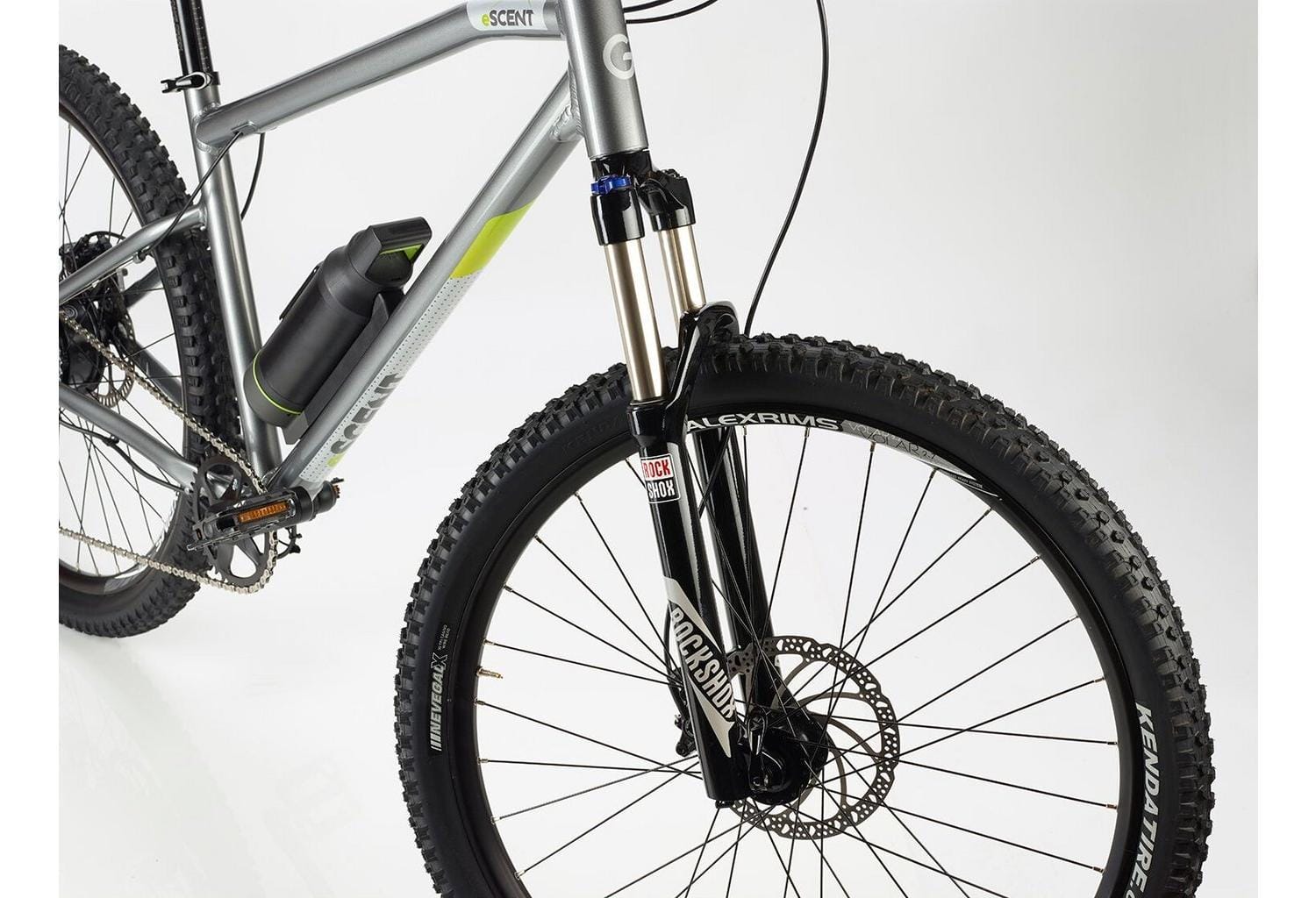 Pros
Saddle guarantees maximum comfort, which is crucial when riding across terrains with different textures

Intuitive battery design that makes it easy to charge/operate and get readings on the remaining battery percentage

Ideal weight for an e-bike suited for off-road riding experiences

Requires less effort to ride uphill 

Handles rough paths featuring obstacles such as debris, branches and mud well

Moves well around sharp and tight corners

Good suspension, which guarantees a comfortable ride throughout a trip
Cons
Difficult to differentiate between the Max and Eco mode when riding the e-bike

Battery is quite tricky to operate as you cycle since the frame slightly blocks the display

The peddle design is basic (pedals need toe caps to help make the ride more enjoyable)

Mudguards on the bike fail to live up to the challenges associated with downhill cycling
eScent is part of the electric mountain bikes from Gtech featuring two-speed options (Max and Eco). Thanks to its 10 gears and 20-inch aluminium frame, the rear-powered bike copes well on different uneven surfaces and paths (including those with mud and fallen branches). Gtech included a suspension saddle on the bike to provide you with extra speed and support when cycling around any terrain. The short charging time (3 hours), lightweight design and multiple speed options make Gtech eScent worth recognition among off-road bikers.
★Rugged frame: with strong support strength, ergonomic design, wear resistance and corrosion resistance, providing you with a safe and reliable travel plan.The bike is fully assembled.
The mountain bike features an aluminum mountain frame and a powerful suspension fork that soaks up bumps and thumps to provide you with a fun, durable riding experience
33 speed trigger shifters and front and rear derailleurs make gear changes easy and smooth
Front and rear mechanical disc brakes provide crisp all condition stopping out on the trail; Durable alloy cranks provide steady gearing and less pesky maintenance
High profile double wall alloy rims are light and strong for added durability; wide knobby mountain tires are ready for bumpy terrain