Tongsheng TSDZ2
Choosing the right electric mountain bike may, at first, be daunting until you identify your need for the machine. When you set out to buy an e-bike, you'll come across several models, some with poor build quality while others with features you may like. Are there any chances of your regular bicycle to the e-bike of your dreams using the Tongsheng TSDZ2 electric bike conversion kit? Read on to find out the features/benefits this kit has to offer plus ways you can pick a different one if this one doesn't suit you.
Why Invest in an Electric Bike?
The first time electric bikes arrived in the bicycle market, there were mixed reactions regarding their performance and potential benefits. As more people began to accept them, manufacturers went over heels with their designs and continued to release exceptional machines. When you get yourself an e-bike, you afford yourself the chance to enjoy using a machine that takes cycling experiences to a whole new level. You'll enjoy maximum comfort when riding effortlessly across hilly or gentle terrains.
What Factors Should You Consider as You Buy an Electric Bike?
Once you establish your need for an electric bike, take time reviewing various factors for you to find a good one. Start by comparing different models while focusing on their unique features. Renting out e-bikes from your local bike shops will allow you to dig deeper into a bike's specifications to determine whether it's a good fit or not. You can also consult with friends or bicycle vendors who are familiar with motor-powered bikes.
Weight and placement play a crucial role in how an e-bike might or might not suit your lifestyle. Your weight should correspond to the weight requirements of the bike. You should also look out for accessories such as mudguards, racks, and lighting systems, depending on how you need them. The various factors to take into account in your search are as follows:
Battery - The number of hours an e-bike can travel highly depends on its battery capacity and motor type. A motor that drains less energy from the battery can power a bike for long.
Torque - Motor torque determines your bike's ability to turn the pedals and increase in speed continually. An e-bike with a higher torque rating is ideal for hill climbing.
Range - Since speed helps determine the range an e-bike can cover, it will take more battery power to travel at a higher speed than a lower speed. Range may also vary with the terrain, motor type, and weight of the bike.
Motor type - Mid-drive motors have a higher capacity for hill climbing while hub motors (which are inefficient on hills) work well on flat, consistent terrain.
Type of assistance - An e-bike may offer assistance when the engine starts (without pedaling). You may also find one that requires a little pedaling effort for the motor to start.
Levels of support - With the levels of support ranging from 3 to 9, you get to choose the level of assistance depending on your pedaling efforts and roughness of the terrain.
Display/console - An electric bike should have a console for displaying crucial data such as distance covered, speed, battery level, and assistance level.
What Makes Tongsheng TSDZ2 Exceptional?
Tongsheng made a name for itself in the e-bike industry as a manufacturer of plug and play mid-drive e-bike conversion kits. The entire kit features an installation tool/spanner, Allen bolts/screws, a speed sensor, a wheel magnet, and a wiring loom. Other parts include Chainring 42T, inner and outer lock-nuts, LCD (VLCD5, XH18, and VLCD6) and a motor unit (with an integrated controller).
The motor unit features an internal torque sensor, which proportionately responds to the amount of pedaling force applied to your bike. You can reprogram the unit using an OpenSource firmware or embedded software and fine-tune it to your preferences/needs. The motor collaborates with a series of gears to drive a bike's rear-wheel around a front chainring. With this method, the motor units rely on the gear ratios for maximum torque and efficiency.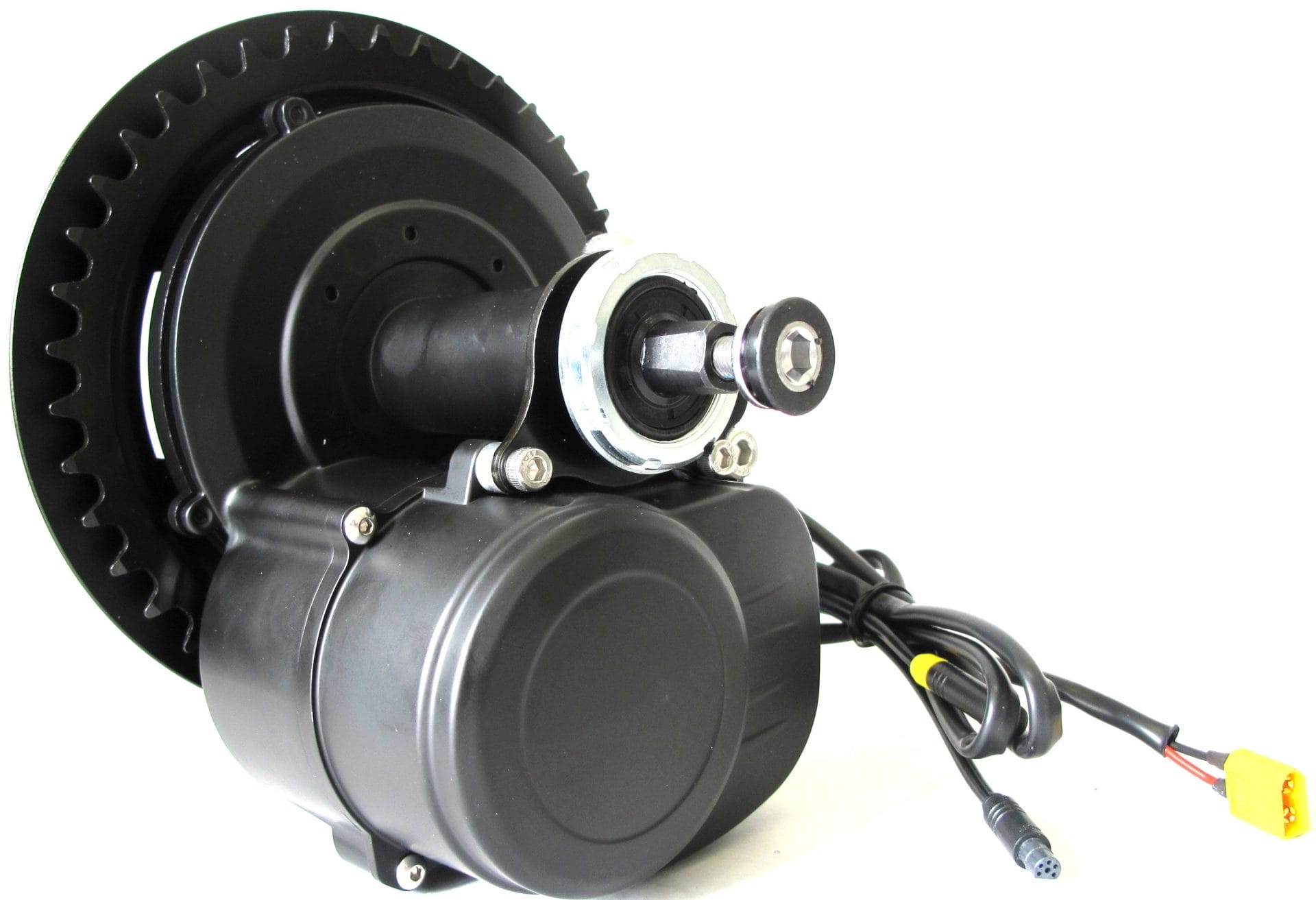 Pros 
Excellent build quality (for an electric bike conversion kit)
Plenty of spare parts available (making maintenance and repair jobs easy to execute)
Incredibly efficient when used as intended
Enhanced cycling experiences facilitated by the torque sensor, which adjusts to the amount of force applied to the pedals
Reduced risks of wear and tear on the gear and chain components (thanks to the bike's ability to evenly distribute power)
Customizable (you can fine-tune the motor unit to suit your individual needs using the embedded software)
Cons
Average motor power (the electric bike conversion kit has a maximum power of 750, which is below the level most new bikers want)
Installation may be tedious and time-consuming
The pedal placement width is more significant than average (which is a disadvantage to the feet rotating the pedals for movement)
Torque-sensing system doesn't suit everyone since you'll still need to add a fair amount of effort for the pedal-assist system to effectively work
When installed correctly, Tongsheng TSDZ2 is an excellent option for an electric bike conversion kit. The torque sensing system provides optimal assistance allowing the bike to be efficient in operation. TSDZ2 is arguably among the cheapest options for converting a regular bike to a motor-powered one.