What Can You Do If Your Electric Bike Cuts Out Mid Ride?
No one likes the idea of being stranded somewhere, but luckily for ebike riders, running out of battery during a ride is not as dramatic a car running out of fuel!
Why is this then? What does happen when an ebike runs out of battery mid-ride?
The odds are you'll probably be ok but before we get into why, let's take a quick look at the role of the battery in an ebike:
Ebike batteries are essentially the only thing stopping a normal, unassisted bike from becoming an ebike. Even though the concept might seem quite futuristic, after all bicycles have been around since 1817, ebikes are actually simpler than a lot of people would think.
Your Ebike Battery Died, Now What?
You might have already pieced together the answer to this one. When your ebike battery dies whilst you're out on a ride, you have two options:
Option A.) Hop off your bike and push it alongside you until you reach home (or wherever else you're going).
Option B.) Keep pedalling!
The option to keep pedalling means that if your ebike runs out of battery, you can continue to use it as a conventional bike, pedalling to propel yourself.
Odds are, you already use your ebike as a conventional bike some of the time, and at the end of the day, the battery is there more to assist your pedalling than to completely replace it anyway!
Running out of battery simply turns your ebike into a normal bike, from power-assisted to unassisted.
Are There Any Risks Involved?
While there might not be any direct risk to your own health or safety, there are a couple of things to think about when planning your next ride. Keeping these factors in mind will help you to maximise your ebike's lifespan as well as ensure your continued health and safety.
Frequently Running Out of Battery
Although being out of battery won't necessarily affect your ability to finish your journey, depleting your battery completely quite often will take its toll on the efficiency of your battery.
You can read more about the issues associated with frequently depleting your ebike battery by following this link.
Overestimating the Battery
You may have planned a long bike ride or perhaps you've just really enjoyed riding and want to extend your journey. Either way, it can be easy to overestimate your ebike's battery.
If you run out of battery a long way from home, it can be very inconvenient to get yourself and your ebike back without the power assist. Keep an eye on the battery gauge to make sure you don't catch yourself short.
Knowing Yourself
If you have an ebike instead of a conventional, unassisted bike to support health issues such as heart problems or joint issues or even just poor fitness, then it's probably a good idea to ensure you have enough battery to last your full ride.
Whatever your health concerns, or even if you don't have any, it's important to know yourself and know your limits. The last thing you want is to run out of battery and find yourself out of your fitness depth.
Ways to Avoid Running Out of Battery Too Quickly
While it might be unavoidable some of the time, there are ways to make sure you don't run out of battery too quickly or too often when riding your ebike.
Monitor Battery Levels and Shift Gear
One way to make your ebike battery last a bit longer whilst riding is to monitor the charge level on your display and shift to a lower assist gear when it starts getting low or if you notice it draining very quickly.
This might mean having to put a little more effort in but it will prolong your battery's life.
Avoid Riding on Low Battery
Wherever possible, make sure your ebike has a decent amount of charge on it before setting out on your journey.
Frequently using the battery at low levels (10% or lower, for example) can actually increase the speed at which it depletes.
Minimise the Weight Your Ebike Carries
If you're going on a little fishing trip or are coming home with a basket full of groceries then this might be a bit more difficult, but if you can reduce the weight your ebike is carrying, the battery will last longer.
Ways of doing this could include taking off additional accessories when they're not needed (eg. Bag racks, baskets).
Use the Right Tires for Your Journey
It might be a nuisance to have to change tires every time you want to do a different kind of ride, and realistically, no one is going to do that.
But if you know that you use your ebike mainly for riding on roads, or mountainous terrain, then make sure you have the most suitable tires as this will create a smoother ride and reduce stress on the battery.
Maintain Your Ebike Battery Properly
Ensure your ebike doesn't get too wet too often and ensure that the battery itself stays dry. You can read more about the relationship between your ebike and water here.
Charge your ebike responsibly using the correct equipment, and be sure to store it in cool and dry conditions out of direct sunlight.
On a Balance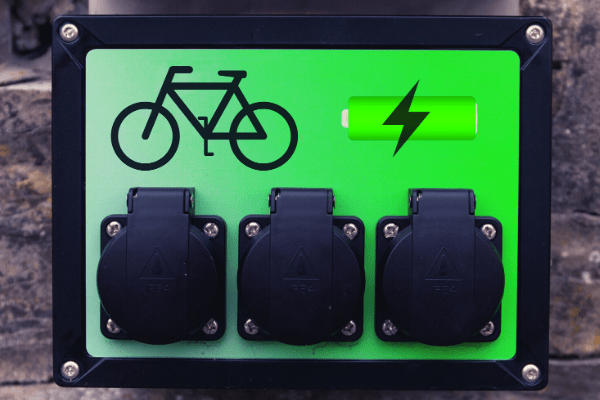 Ebikes offer an excellent low-impact alternative to conventional cycling and the introduction of battery power is a simple way of providing this. Ebikes are fairly fool-proof and their batteries generally have a long life and can hold a lot of charge.
Like everything else in this world, ebikes are not perfect and unfortunately, they do run out of battery from time to time. This is by no means the end of the world and the most likely scenario is that you'll be able to pedal your ebike home if you do find yourself out of battery.
There are many ways to help your ebike battery to last longer, both in the long term and on each individual ride. By taking a few precuations and following the tips explored above, you can maximise your battery's efficiency and durability.
 Take care of your ebike battery and it will take care of you!