How Far Can A 5000w Ebike Go?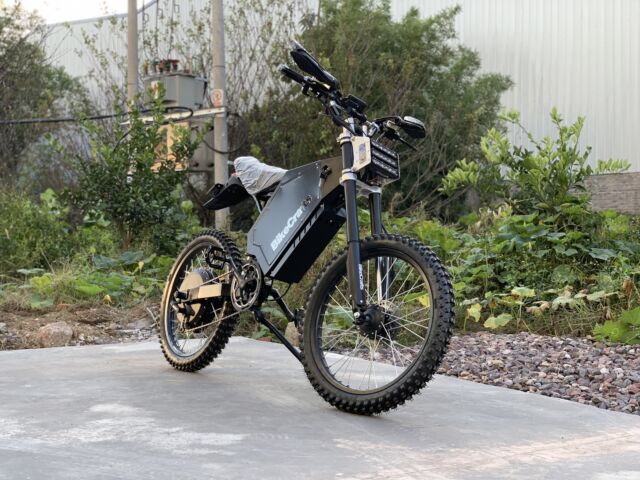 Looking to take your electric bike on a longer ride? You're in luck! Electric bikes are capable of going much further than you might think. With a powerful motor and plenty of battery life, you can easily cover long distances on an e-bike. So, what is the average range of a 5000w electric bike? Let's find out!
Generally, a 5000W electric bike can go 60 miles to 100 miles (100~160 kilometres) on a single charge.
This will vary depending on the weight of the rider, the terrain, and the speed at which you travel if you are looking for an electric bike that can take you on longer rides, consider this when making your purchase. With a 5000W electric bike, you'll have plenty of power to take you wherever you want!
Meanwhile, you should also read our article about the basic science behind how far an e-bike can go.
What are the factors affecting the range of 5000W electric bikes?
The battery is one of the most critical parts of an electric bicycle. Your electric bike wouldn't be much of an electric bike if you didn't have it. Your electric bicycle's battery has a mileage rating that indicates how far it can be ridden on a single full charge before it has to be recharged. Your electric bicycle will perform significantly better if its battery has a longer range.
Several different circumstances may negatively impact your e-mileage bikes. There are many different factors to consider, from the kind of terrain you ride on to the weather. In this post, we will discuss eight potential elements that impact the mileage that an electric bike may get, as well as easy ways in which you can increase that mileage.
1. Battery performance
The capacity of your battery and how well it performs are two of the most important aspects that determine the mileage of your electric bicycle. It's typical for owners of electric bicycles to confuse the capacity of their batteries with their bike's mileage. On the other hand, they do not have the same meaning. If the battery has a higher performance, it will have a longer lifespan than other batteries with the same capacity. The electric bike will be able to go more distances after fully charging.
2. Battery level
It should be no surprise that your battery's charge level will determine the maximum range E bikes have. Every electric bicycle comes with an estimate of the maximum mileage it is capable of covering. Still, it is important to note that this figure refers only to a battery that has been completely charged.
For example, the Lankeleisi MG600 Plus Electric Bike has a range of 90 miles when completely charged; however, this distance would be drastically reduced if the battery level were just 40%. To get the most usage out of your electric bicycle, you must ensure it is entirely charged before you use it. There are a lot of new electric bike owners who quickly put it through its paces by taking it out for its maiden voyage as soon as it arrives at their doorstep. Because of this, the battery's life and riding range may be reduced.
3. Riding mode
Batteries supply the electricity for electric pedal-assist bikes, which also have a mechanism that might alleviate some of the strain associated with pedalling. The throttle and pedal assist modes are standard on most electric bicycles. When you engage the throttle mode on your electric bike, its performance will be similar to that of a motorbike or scooter. You do not need to pedal since the engine will give you the power and move you forward.
You still have to pedal when you use the pedal assist system (PAS), but the motor gives you power so that it is simpler to pedal, and you can go faster than with a standard bicycle. Because of this, the pedal-assist mode saves far more energy than the purely electric mode. Reduce the use of the throttle on your electric normal bike and increase the amount of time you spend pedalling to increase the distance you can travel. You can also choose between different assistance levels to choose between saving energy and saving your effort. When you assist level 1, the motor only provides a little help; when you assist level 5, you only need to pedal a little bit. You can save energy or save your effort, depending on which option you choose.
4. Tire pressure
The rider's weight and the weight of the e-bike are primarily supported by the tyres, which are the primary component of the e-bike. The friction the tyres creates contributes to your ability to traverse whatever surface you are on. If your tyres do not have adequate pressure or are not properly inflated, the friction between the tyre and the ground will increase, so more effort or pedalling will be required to go forward.
The optimal tyre pressure changes depending on the road surface. The usual tyre pressure range for city streets is between 80 and 130 pounds per square inch (psi). When you need extra traction on rocky, loose or hilly terrains, friction is your friend; to maintain tyre pressure lower, between 25 and 50 psi, you need to keep the tyre pressure lower. The miles for the range of electric bicycles will also be reduced as a result.
5. Weather
Adverse weather conditions can negatively impact both the performance and mileage of your e-bike. For instance, if you ride your e-bike with a strong wind blowing, your miles of range will decrease since you require more energy to move your bike ride. The colder the temperature, the less energy your type of battery capacity can store when exposed to it. This, in turn, affects your mileage. Even though most electric bikes have waterproof cables, it is still not a good idea to ride one in the pouring rain since the water will shorten the lifespan of the bike's batteries, screens, and metal sections. However, you must know how to ride your e-bike in any weather condition.
6. Terrain
Bicycling down a route that is smooth, flat, and without any challenges will need less energy than biking up a slope that is quite steep. The amount of pedalling effort required to conquer challenging or steep terrains has a considerable impact on the distance achieved by your e-bike. For instance, regularly driving to and from work will give you a greater range of hours than mountain riding.
7. Load-bearing
The amount of weight that you carry on your e-bike will affect the amount of effort that is required to propel it forward. If you have passengers or baggage on your electric bicycle, you will probably need to pedal more vigorously or increase the amount of pedal help. Both will shorten the life of your standard battery and decrease the mileage you get out of your electric bicycle. If you weigh more than 100 kilogrammes, the maximum mileage the manufacturer estimates your electric bike path is capable of will not be reached under any circumstances. In addition, most electric bicycles with lightweight frames tend to have a greater range than larger or heavier bikes.
List of the best 1000W electric bikes in the market with the longest range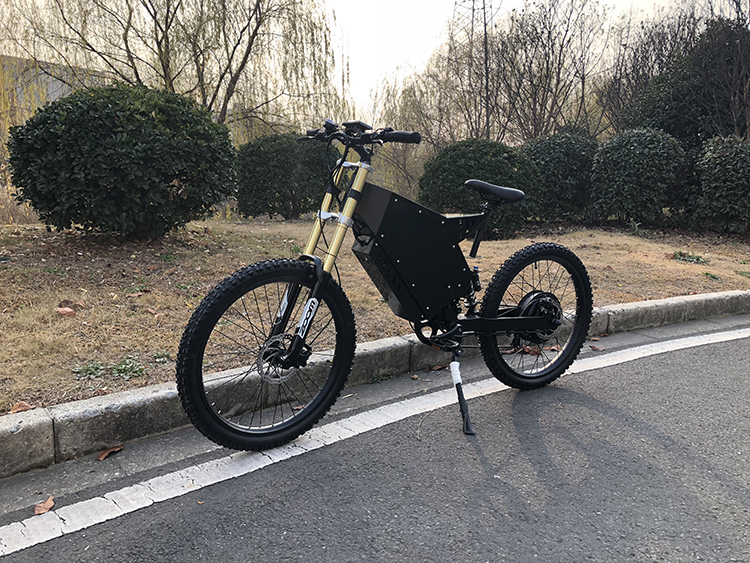 1. HyperScrambler 2 Dual Battery E-Bike
Juiced Bikes has created a high-performance behemoth in the form of the HyperScrambler 2, which is an ultra high-range e-bike. It has an 8-speed gearbox and a 1000W Bafang motor, much like the HyperScorpion. However, because it utilises two separate battery packs, this electric standard bike can deliver double the power of its competitors.
Two 52V/19.2Ah batteries are tucked away safely inside its heat-treated aluminium chassis, where they can provide a staggering 1996Wh of monstrous power as well as a range of more than 100 miles. Even while riding up steep inclines, you won't have to worry about your battery power running out or peddling excessively to conserve it since this battery efficiency power, along with the strong motor, ensures that you won't need to pedal excessively.
A twist throttle, cadence and torque pedal help, 180mm hydraulic disc brakes, and an adjustable dual suspension system are among the features of the HyperScrambler 2, which, like the HyperScorpion, is capable of delivering top speeds of up to 30 miles per hour. It also has the same configuration for the headlight, brake lights, and turn signals as the HyperScorpion, making it ideal for riding both day and night.
Its enhanced horn and integrated anti-theft alarm system can blast an extra loud 118 decibels to ensure that other drivers on the road are aware of your presence and to deter any potential bike thieves. This electric throttle bike features a backlit LCD that is both small and completely functional and can track all crucial trip stats. In addition, it possesses the same five riding modes as the HyperScorpion, ranging from an easy-pedalling mode to a racing mode.
This electric bicycle features a comfortable double seat that was made to order. Because of this, it is great for riders of larger stature to modify their riding position and makes it perfect for two riders of a lower stature to sit comfortably. The brand appearance and utility are finished with puncture-resistant fat tyres measuring 20 inches by 4.25 inches, a USB charging connector, and rearview mirrors.
2. HyperScorpion Electric Moped-Style Bike
If you check under the symbolic hood of this moped-inspired electric bike, you will see that it is a performance beast. Do not be fooled by its appearance. This inconspicuous electric bicycle from Juiced Bikes comes with a strong 1000W Bafang motor, which is why it is included on this list, but there is much more to it. Because of its enormous motor, it can deliver massive off-road speeds of up to 30 miles per hour.
The HyperScorpion combines its enormous motor with an equally enormous internal battery pack that has 52W/19Ah and can deliver 994WH and a range of more than 70 miles. The HyperScorpion from Juiced Bikes is upgraded by adding a pedal-assist with torque and cadence sensors, a twist throttle for regulating raw power, and an 8-speed shifter. These upgrades improve the whole riding comfort and enjoyment of the HyperScorpion. In addition, it features an adjustable dual suspension system that can provide a smooth ride regardless of any type of terrain (whether its rocky terrains, rugged terrains or regular terrains)
Tektro hydraulic disc brakes are ideal for delivering sufficient stopping force with less effort for a bike of such power and speed. Juice Bikes decided to install these brakes on this hyper-performance electric bike because they were the best option. The HyperScorpion also comes equipped with all the components essential for maximum levels of safety and visibility, including turn signals, brake lights, a piercing horn, rearview mirrors, and an anti-theft alarm system. The headlights on the HyperScorpion each have a brightness of 2000 lumens.
With the help of the portable LCD with backlighting, you won't have to stress about keeping track of how well your journey is going in real time. Using this display, you may adjust your riding parameters in real-time. You can also switch between any of the five riding modes available on the HyperScorpion, including the ECO and Sport modes.
Conclusion
So, what have we learned? First and foremost, electric bikes are a great mode of transportation for short or long distances. They're also perfect for people who want to get some exercise while they commute. With a range of up to 100 miles, it can easily fulfil your daily commute on a single charge. Additionally, the type of bike you choose – whether it has a single or dual battery charge – makes a big difference in range. Finally, keep your tires properly inflated and dress appropriately for the weather conditions if you plan on taking your light e-bike out for a spin. With all that in mind, we hope you feel confident enough to purchase your electric bike! And if you need help picking one out, don't worry – we've covered you. We've compiled a list of the best 1000W electric bikes on the market with the longest range so that you can find the perfect ride for your needs. Happy shopping!