Should You Buy a Focus Electric Bike? - Our Overview & Review
Designed and manufactured in Germany, Focus has been around in the e-bike industry for a while now, with headline bikes being used in events such as the Tour De France. 
The Focus e-bike range of quality bikes is huge, they make normal road bike models for commuting, mountain biking, kids bikes and hybrid bikes, so you can find any bike you need with ease.
As we don't have time to cover all of the Focus bikes in the market within our review, we will do a brief overview of the most popular models they have on offer then review their latest 2021 Focus Sam² 6.8 e-bike in a little more detail down below. 
Overview Of The Focus E-Bike Range
Whether you are looking for a durable hardtail mountain bike or a mountain bike with full-suspension frames, Focus have both, we have done an overview of the most popular bikes in the E-Bike market down below. 
Full Suspension Mountain Bikes 
Focus JAM² Plus Pro - With a 150mm full suspension, 29-inch wheels and a Bosch Performance CX e-drive motor, this Jam e-bike from Focus is a weapon.
Focus Thron 2 - Excellent 625Wh battery for extra power on tap and a 130mm full suspension.
Hardtail Mountain Bikes
Raven 2 - Perfect for racing with a removable battery, lightweight and 100mm suspension fork.
Jarifa 2 - Comes in 29-inch and 27.5-inch wheel sizes with an option to mount accessories such as mudguards, equipped with a Bosch Performance CX line motor.
Road Bikes 
Paralane 2 - The endurance bike geometry and 35mm tyre frame clearance make this bike speedy with a removable battery and motor allowing you to use the bike with no assistance if needed.
Our Review Of The 2021 Focus Sam² 6.8 E-Bike 
Now we have done a brief overview of the best bikes from the Focus range, we can review the bike of the year from them, the 2021 Focus Same 2 6.8 E-Bike. 
Electric Components 
Motor 
Motor-wise, the e-bike is using a 4th generation of the Bosch Performance CX e-drive motor, this motor is rated 250W making it legal for road use in most countries and can produce up to 85Nm of torque on the bike. 
The bike additionally includes four different modes of pedal assistance on the trail bike ranging between; walk mode, eco modes, tour mode, sport mode and turbo mode which can all be set via the Bosch Purion display on the e-bike. 
What We Think
This electric bike has great power and is high-performance thanks to its latest generation Bosch motor which gives extra power when riding, we like the fact Focus kept it legal for the streets too, although, we are not sure how well the power output would perform against very steep hills.
Battery 
For the battery, the Focus Sam bike uses a 625Wh battery which is integrated into the seamless down tube of the bike. The battery is removable for charging and security too. 
What We Think
The battery life of this e-bike is excellent if you want to take a trail bike long distances and we like the fact it fits smoothly into the frame of the bike without being too obvious. 
Bike Components  
Frame
Frame-wise, this full-suspension mountain bike is made from 7005 hydroformed aluminium for ultimate strength and uses a RockShox ZEB front fork with 170mm of travel to make it a comfortable bike. The e-bike additionally has RockShox Super Deluxe Select+ rear shock too. 
The whole frame of the bike weighs only 26kg. 
What We Think
This e-bike comes with an exceptional MTB frame that can take anything you throw at it. The front fork keeps the bike comfortable over bumps and its weight isn't the lightest but is not the heaviest e-mountain bike on the market either. 
The geometry of the bike combined with the higher power can throw you off a bit when tackling downhill slopes, however. 
Brakes & Gears 
For the brakes this Focus e-bike uses SRAM Code R 4-piston brakes with have 120mm rotors, these high-quality brakes are paired with SRAM GX Eagle 12-speed derailleur for extra control on trails. 
What We Think
The brakes and gears of this Sam Focus electric bike are of very high quality and make the bike extra safe to take out on technical trails, we can't fault this set-up at all.
Wheels & Tyres
On this e-bike, the model uses 29-inch wheels with Schwalbe Magic Mary all-terrain tyres, these help you roll over any uneven terrain with ease and help with the downhill geometry due to their large size.
What We Think
The wheel size of this mountain e-bike is excellent for taking on trails, but we would suggest switching out the tyre for a more high-quality pair if your gonna be hitting the woods and mountains often.
How Does The 2021 Focus Sam² 6.8 E-Bike Perform?
When taking the Focus Sam 2 Bike out on trial, we could seriously feel the power and assistance from the motor compared to a normal road bike, it managed bumps and inclines with ease and its 29-inch wheels come in handy when rolling over any bumps. 
We would suggest, however, if you are planning to use this bike on downhill slopes a lot then you should use it on an eco pedal assistance, the power of this bike can be a lot to handle otherwise. This bike is also not the lightest, so you might struggle to ride it if you run out of battery power.
Is The Focus Sam² 6.8 E-Bike Worth It?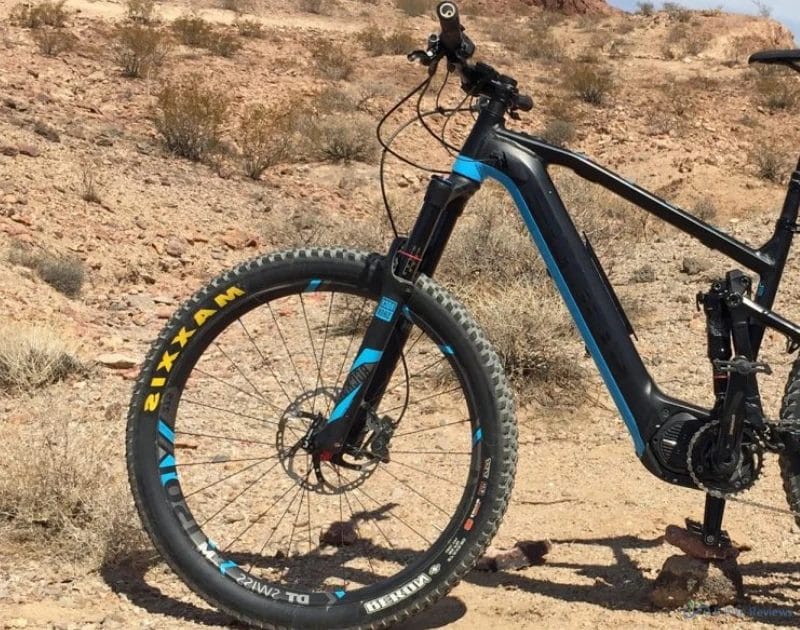 All in all, the Focus Sam² 6.8 E-Bike is a great bike for mountain biking, coming with high-quality specs such as its SRAM piston brakes and 12-speed gears, as well as its large battery capacity meaning you can feel confident on pretty much any trail.
We would not say this electric bike is the best for technical trails however as its geometry can throw you over a bit combined with high motor power and assistance.
Other brands we have reviewed that you may find useful;