Should You Buy The Luna Fixed Stealth E-Bike?
For people who want a good-looking e-bike that can they can commute with, the Luna Fixed Stealth 2021 model could be the right choice.
Luna is a new company from California, they currently only have eight different electric bikes on the market, ranging from road bikes to scooters, what's different about Luna bikes is that they don't make the battery obvious in their design, allowing the e-bikes to look like normal ones from a distance.
In our review below, we will cover the Luna Fixed Stealth e-bike in more depth and see if this bike is truly worth the investment.
Our Review Of The Luna Fixed Stealth E-Bike - Should You Buy It?
From a lightweight design to its carbon belt drive, the Luna e-bike has some excellent stand-out features all for an affordable price, making it a very competitive commuter e-bike on the market.
We will dive deeper into these features below and review them one by one.
Electric Components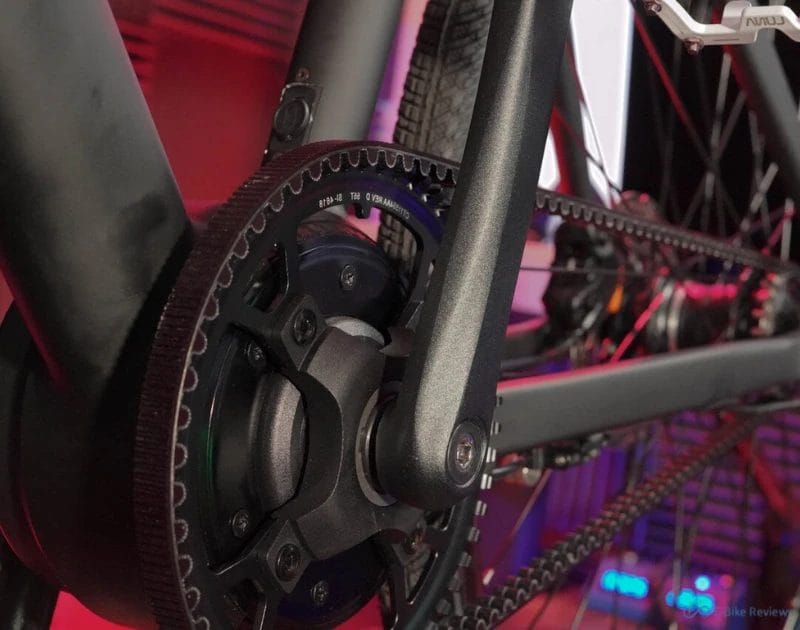 Motor
For power, this Luna Fixed Stealth electric bike uses a 500W Shimano mid-mounted motor, the motor is integrated into the bottom bracket of the bike to not make it look so obvious and comes with three different PAS modes included, as well as throttle handle function for a boost of power.
Its torque-sensing system, as opposed to a cadence sensing system, gives a more natural feel to the bike.
The motor uses carbon belt technology too for a more durable drive system.
What We Think
If you are planning to commute with this e-bike, its 500W motor should be more than enough to get you going on the road, and we appreciate the carbon belt for long term use and the motor does perform very quietly.
We do however have concerns about using this e-bike on the road as its motor is not legal to use in some places such as on the UK roads without a moped license.
Battery
Battery-wise, the electric bike uses a small-sized Panasonic battery with a capacity of 250Wh, the 7Ah battery is integrated into the downtube of the bike once again to make it look more like a normal bike.
Estimated range from this GA Panasonic battery is around 20 miles with normal pedalling.
What We Think
The battery has to be one of the biggest drawbacks to the Luna Stealth bike, it does have a limited capacity and is not for long-range riding at all with lots of inclines. Having said that though, it should be more than enough for the average commute to work.
Bike Components
Frame
In terms of the frame, the Luna bike uses a 6061 aluminium frame which has a neat LCD mounted in the handlebars to show you your metrics. The whole design weighs an impressive lightweight 39 pounds and the electric bike come in three different sizes too.
What We Think
One notable point about this e-bike frame has to be that it lacks suspension, so would not be suitable for taking on bumpy trails, but Luna does state this is a road bike, to begin with. Other than that, the frame of this bike is durable and easy to ride with, not to mention portable too for commuting thanks to its lighter weight.
Brakes & Gears
For the brakes, this commuter e-bike is equipped with Tektro hydraulic brakes and uses a Shimano NEXUS SG-3D55 IGH 3-Speed gear system to ride with.
What We Think
The gear speed range of this bike is pretty limited and we would have preferred it if they put a larger group set, however, we do like the fact they fitted the electric bike with hydraulic brakes rather than standard disc brakes, especially considering that the bike is very affordable.
Wheels & Accessories
This electric bike uses double-walled alloy rims for its wheels and 700x35C Kenda tyres. Its design features accessories such as fenders and a rear rack on the bike too which are useful for commuting.
What We Think
Overall, the wheels and tyres for this bike are pretty standard and Kenda tyres are good quality for road use, it also includes important accessories which is good for the price.
How Does The Luna Fixed Stealth Bike Perform?
When riding the Luna electric bike, we managed to reach speeds of around 24mph and the bike was nimble to control thanks to its lightweight, we noticed, unlike other e-bikes, when riding this bike, you can use it without assistance as it isn't too heavy thanks to the smaller battery size and components.
The overall e-bike was a joy to ride with, but as we continued our journey the battery pack did concern us and we feel as if it might give a lot of range anxiety to most people when riding due to its limited capacity.
Is The Luna Fixed Stealth Bike Worth It?
To conclude, the Luna Fixed Stealth e-bike is a fair price commuter e-bike on the market, however, the bike does lack range for longer commutes, and the whole model has a limited warranty.
We think the e-bike is a good choice for the basic commuter who wants a normal-looking bike, but it is not the best commuter bike on the market.
Please order Fitifito only from Tamia-Home/Tamia-Living, because only from us you will receive the original Fitifito products directly from the manufacturer. Quality and performance: the robust 48 V 250 W rear cassette motor in combination with the durable 13 Ah 624 Wh Samsung Cells lithium-ion battery, with a charging time of 4-6 hours, takes you through everyday life, to work and to the city. Even longer tours will be confident to handle.
Comfort: the lightweight aluminium frame in combination with the Suntour suspension fork, the Selle Royal saddle and the genuine leather handles all contribute to the reduced weight and increased driving comfort. The saddle can be adjusted horizontally and thus individually adjusted to your body size.
Complete road equipment: thanks to the extra-long mudguards, an electric front/rear light, spoke reflectors, a bell and the pannier rack with lashing strap, you can enjoy driving fun in different situations (rain, night, luggage transport). They are always highly visible to drivers and can be noticed from other road users.
Safe and smart driving: the 8-speed rear derailleur from Shimano ensures a pleasant propulsion and switches quickly and precisely. With the built-in high-efficiency suspension fork and handlebars, even uneven roads are no obstacle for you. Thanks to the hydraulic disc brakes and front and rear light from Buchel, your safety in road traffic is ensured. With the display, you can easily control all important data via the bike as well as the ride.
Box contents: the technical details can be found in the listing below. Be sure to leave your phone number when ordering, a delivery date with the courier will be arranged by call. The shipment will be delivered to the curb. Island – delivery without truck connection excluded! WEEE registration number: DE 60470511
Other brands we have reviewed that you may find useful;