Should You Buy The Orbea Gain E-Bike? - Our Review
Orbea is a popular manufacturer in the e-bike market and is based in Spain, they are best known for making electric road bikes, mountain bikes and bikes for athletes. 
What sets Orbea apart from others in the electric bike market are their high-quality designs with carbon model and ebikemotion bikes motors for lightweight power, these features do however come with a fairly hefty price tag. 
One of the most popular bikes in the Orbea range is the Orbea gain which is a performance-orientated road bike, we have done a brief overview of Orbea's whole range below, and reviewed the new Orbea Gain M20i in more detail too to see if this bike is right for you. 
Let's get reviewing!
An Overview Of The Orbea Range
Before we get talking about the Orbea gain M20i specifically, it's worth getting to know the whole range from Orbea to see if this range is right for the type of cycling you want to do. 
We have listed each range out down below and gone over their main specs. 
Orbea Optima - This range features light weight city e-bikes with step-through frames, speeds of up to 20mph and upright geometry, making it best for commuting e-bike riders.
Orbea Vibe - The Orbea vibe range comes with a fast e-bike system in step through and step over designs with lots of accessories. These bikes have excellent groupsets of gears for multi-purpose use.
Orbea Gain - As part of the bike we will discuss below, the Gain range by Orbea is a road bike with a more natural feel, reaching a speed limit of 20mph and coming with appropriate accessories needed for road biking.
Orbea Wild FS - The best choice for mountain bikers, the Wild FS features 29-inch wheels with 160mm of travel and Shimano drivetrains. The spritely bike range has impressive battery capacities of 1125Wh too.
Orbea Rise - These MTBs are often made with carbon frames and come very light in weight, range extender options are often available with the battery power on these bikes.
Our Review Of The Orbea Gain M20i
Now we know the rest of the range from Orbea, we can get into reviewing the Orbea Gain M20i model which is new in its range. 
We have broken down the main specs and features of the bike below.
Electric Components 
Motor 
Motor-wise, the Orbea model is powered via its Ebikemotion X35 rear hub motor and provides 250W output power of motor assistance. The bike can reach top speeds of 25 km/h which is legal in terms of speeds for road use. 
Its motor is integrated into the frame of the bike with 40Nm of torque, making it hard to see at first glance if the bike runs with a motor. 
What We Think
The motor of this e-bike by Orbea is not exceptional, but enough for road biking, and the cut-out speed is what keeps the bike legal to use on roads.
It should be noted that the rear position of the motor does cause a little drag when riding the bike, and the cadence sensor is a little behind when pedalling with the motor, but nothing too noticeable.
Battery 
For the battery, the Orbea gain is fitted with an Ebikemotion 36V lithium-ion battery which is stored in the down tube of the bike underneath the bottle harder for discreet use. This ebike battery can be used with a range extender too to reduce range anxiety when riding long distances. 
What We Think 
We like the seamless design of the battery in the downtube of the bike but its range is pretty limited and runs down quickly when using the e-bike on assistance modes.
PAS/Display
By standard, this Obrea bike uses three assistance levels which feature LED lights on the top of the bike going between green, orange and red, with red being full assistance. There is additionally a head unit on the bike which shows metrics such as your range estimate and battery indicator. 
What We Think
The assistance levels on this e-bike are super easy to switch through on the head unit, we do think though the unit itself is of poor build quality however, you might struggle to see metrics in daylight from the tiny screen too. 
Bike Components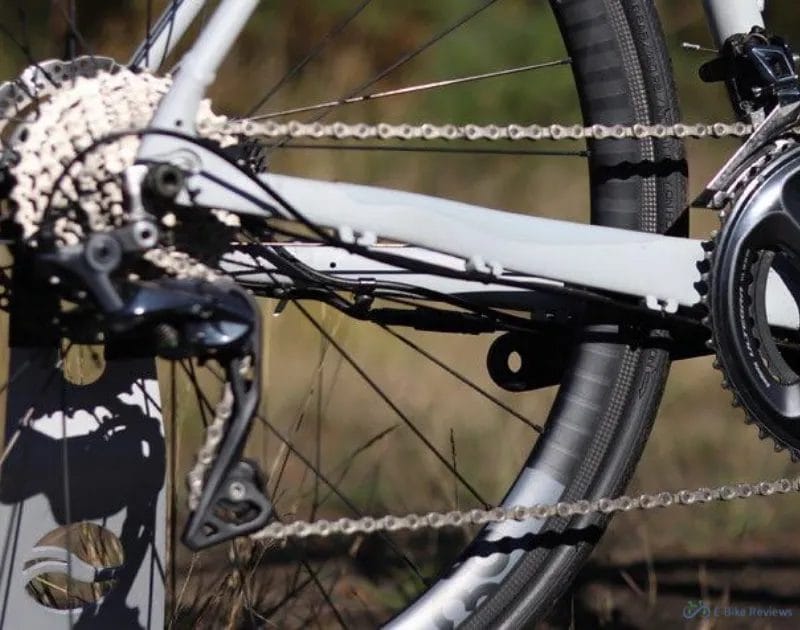 Frame 
Frame-wise, the whole design of this e-bike is super sleek and thin with its integrated battery and motor, its carbon frame keeps the bike light and has a gain carbon flat-mount fork for stability when riding on bumpy roads. 
The drop-bar bike's handlebars have a drop of 125mm and you can choose your customised colour too when purchasing the bike.
What We Think
We appreciate the carbon frame of this bike in terms of weight, making the bike easier to move around without assistance, its standard fork also provides extra comfort. 
We wouldn't say this frame is great for taking on difficult terrains, but that's why it is sold as a city e-bike.
Brakes & Gears 
For gears, the e-bike by Orbea is fitted with Shimano Ultegra Di2 electronic drivetrain, this allows for smooth shifting along with its 50/34 chainrings and 32t cassette which can help you handle a variety of inclines with ease. 
Additionally, the electric bike is equipped with Shimano ULTEGRA BR-R8070 hydraulic disc brakes for fast stopping power and have 160mm Shimano brake rotors.
What We Think
Overall, both the hydraulic disc brakes and gears that come with this bike are excellent, we can't fault the drivetrain which gives confidence when riding hills and the hydraulic brakes system makes it great value for money.
Wheels & Tyres 
Lastly, we have the wheel and tyres. This e-bike is fitted with 42mm deep carbon wheels and uses 30mm Schwalbe tyres, you can easily switch these out for tyres of your choice however up to a size of 40mm. 
What We Think
We like the fact you can switch out the tyres easily on this e-bike to grave tyres or 40mm rubbers of your choice. The only downfall of this whole set-up has to be the lack of mudguard mounts which could have been useful.
How Does The Orbea Gain M20i Perform?
When handling the M20i Orbea Gain e-bike on the road you do notice the poor torque sensor of the bike which is slightly delayed when pedalling. You can feel the motor lagging slightly when riding but the overall bike does feel balanced and stable, making it great for beginners or as a bike for leisure riders. 
It's worth noting although the levels of assistance with this bike are great, they are not enough for huge inclines, and you will have to put quite a lot of manual effort in to get up steep ones.
Is The Orbea Gain Worth It?
For design, we think the Orbea gain is worth it, it's integrated motor and battery with its lightweight carbon design makes the e-bike feel premium and easy to ride with. But for mountain bike riding or people who want power, this e-bike might lack in the assistance department. 
If you are fine with using some user effort to get the bike moving above 20mph and aren't planning to tackle any huge inclines with your bike you should be fine, but for long commuting we would 100% recommend buying the bike with a battery range extender too.
Frequently Asked Questions About The Orbea Gain M20i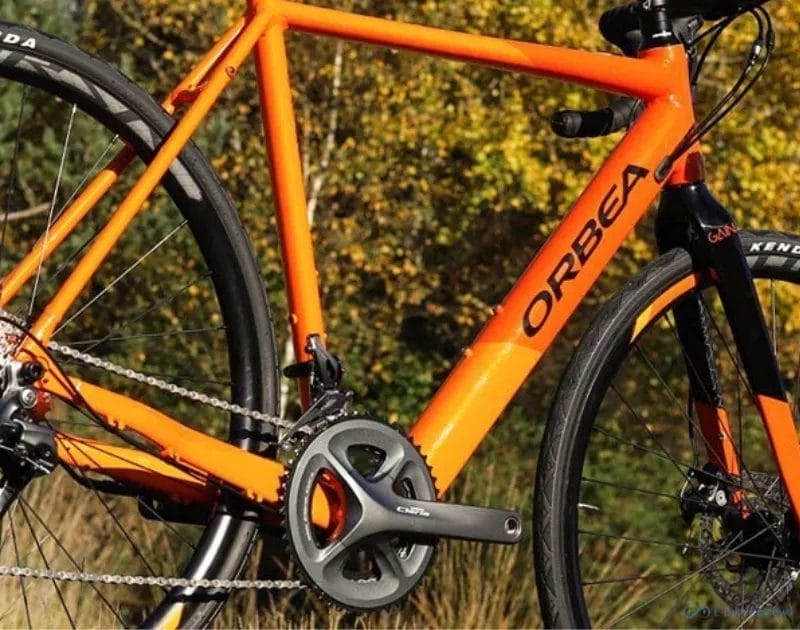 What is the difference between Orbea Gain M and D bikes?
You might see in the Orbea range that similar bikes start with M/D. M stands for e-bikes which have a carbon frame while bikes starting with D have an alloy frame and are a little more affordable.
How much does the Orbea Gain M20i cost? 
The Orbea Gain M20i costs around a price range of €6,299.
What are some downfalls of this Orbea e-bike? 
Some downfalls of this bike are its lack of motor power and torque sensor which isn't very responsive, making it a less efficient bike. It's selling price is very expensive too.
Can I use this electric bike for mountain biking? 
Although this bike can handle some bumpy roads, we wouldn't use it for extreme mountain biking due to its lower power assist and small range.
Three Riding Modes: [Pedal Assist Mode]-The motor will assist you with continuous power as you pedal the bicycle. [Fully Electric Mode]-Just twist the throttle (do not need to pedal). [Manual Mode]-Stepping on the pedal just as the common bike.
Electric System: Equipped with Bafang high speed motor, powered by removable 48V 9.6Ah lithium battery. Two ways to charge the battery: you can charge the battery directly on the bike, or take out the battery to charge it.
Multi-function Display: Equipped with LCD bike computer, so you can check the riding data more conveniently, such as speed, battery level, odometer and so on, you can also switch the pedal assist level according to the road condition.
Configuration: Carbon fiber frame is super light and high strength, pedal assist system can better understand the rider's intentions transmit power more accurately. Upgraded Air (Pneumatic) front fork shock absorber will give you more comfortable riding experience. 27-speed Shimano professional transmission system is durable, front and rear hydraulic disc brake is more sensitive, which can effectively reduce the braking distance.
Assembly: The bike have finished assembling 90% before shipment, usually you need to assemble the saddle, pedals, handlebar and front wheel. Warranty: Frame: 2 Years; Controller, Charger & Battery: 6 Months; Other electric parts: 3 Months.
Other brands we have reviewed that you may find useful;