Oxygen S-Cross CB Hybrid Electric Bike
The Oxygen S-CROSS CB Hybrid Electric Bike is one of the more expensive electric bikes on the market, but don't let that put you off because it comes with some great features to make travelling a lot more comfortable. Whether you are travelling to work or you just fancy a nice day out on the bike, you can be certain that the SR Suntour Nex Front Suspension and the 21 gears will keep you wanting more with every pedal.
This bike comes with an internal 36v battery that will provide you with enough power to get to your destinations quicker, and with the implementation of the Tektro Novela front and rear disc brakes; you can guarantee a safer experience too.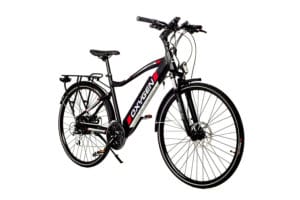 It doesn't matter if you are a new or experienced user when it comes to electric bikes; this one comes with a lot of features that will make anybody happy. If you are one of those people that is always in a rush and you forget to charge your phone, this electric bike comes with a USB port on the handlebars so you can charge up on your way to work. If you seek different power assist levels when travelling to give you a bit of variety, this electric bike comes with 6 of them, and another 3 power modes to keep you happy. There isn't a lot this electric bike doesn't provide and if you are on a lookout for a new one, take a look at some of the other features this electric bike provides:
19" wheels – This Oxygen S-CROSS Electric Bike comes fully equipped with 19" wheels, so you can be sure you are going to get tyres that will suit any terrain whether they are rough or smooth. The treads on these tyres are great and will keep you much safer on the road and when turning corners.
Mudguards – The mudguards are handy for those travelling to and from work, as they will prevent most of the mud and water from hitting you. It's always recommended to wear waterproofs when travelling in wet conditions, but the mudguards will do its job and help prevent any mud from flicking up into the eyes.
Brushless motor – You will often find many electric bikes come with the brushless motor technology and that is simply because they are the best for the job. This bike comes with a 36V 250W 8FUN Brushless Motor that will ensure you are able to travel for longer distances with much more power than other electric bikes on the market.
Disc brakes – This electric bike comes with front and read disc brakes that will provide you with much better stopping times in whatever weather conditions you travel in. The disc brakes provided are Tektro Novela so you know you are going to get a brand of brakes that you can trust.
Lights – Lights are especially important today, what with all the vehicles on the road, which is why Oxygen has included front and rear lights for you to take advantage of. These lights will ensure you are always safe whether you are travelling in thick fog or at night. Having a good set of lights on a bike can be the difference between getting home safely and not at all.
LCD Display – The front LCD display is a great feature for those that want a bit of variety when travelling. The LCD display situated on the handlebars will allow you to change between 3 different power modes and 6 different assists. This means that whether you are riding uphill or downhill, you will always have a challenge on your hands if you seek one.
USB port – There aren't many electric bikes on the market that come with a USB port, but Oxygen has thought of everything with this bike. This electric bike comes with a full equipped USB port on the front handlebars so you can charge your phone or any other USB supported device whilst you are travelling to your next destination.
21 gears –Whether you are a new rider or someone with a bit of experience, this bike comes with 21 gears so your journeys are a lot easier regardless of the terrain you are riding on. Whether you are riding uphill or downhill, the 21 gears will give you a variety of gears to choose from depending on your specific needs.
Pannier rack – This electric bike comes fitted with a pannier rack at the back so you will be able to carry your bag or other goods whilst you are travelling. Whether you are going to work carrying your important documents or travelling to an area to have a picnic, this pannier rack will support everything you need to carry.
Choice of two battery packs – This electric bike can be fitted with two different batteries depending on the one you choose upon purchase. You can use a 10.4Ah battery or a 13Ah battery depending on your specific needs and what distances you will be using the bike for.
Longer distance travelling – Depending on the battery pack you have chosen with the purchase of this bike will depend on the miles you will be able to travel. If you pick the 10.4Ah battery you will be able to travel 35 miles, but if you pick the 13Ah battery then you will be able to travel up to 50 miles depending on the terrains you are riding on.
There aren't many bikes on the market these days that can provide as many features as the Oxygen S-CROSS CB Hybrid Electric Bike. Of course, it's a very expensive electric bike, but if you know you are going to get a good use out of it and you have the money to spend on one, then you should consider this Oxygen product. It has all of the big features such as an LCD display and USB port to all of the important smaller features such as the lights and disc brakes. Its sturdy design and aluminium frame will ensure users of all weights are catered for, and with the fact this bike comes with multiple gears and different power modes makes this a sure buy. If you are currently on the lookout for a new electric bike but you are unsure of which one to choose, this Oxygen S-CROSS CB Hybrid Electric Bike should be considered by anyone willing to take their electric cycling needs seriously.
Summary
Features: Front suspension – Mudguards – Internal 36v battery – 21 gears
Pricing: High-Range
3 Riding Modes: By full electric, by pedal assist mode and by yourself, you can choose the full electric mode to enjoy a relaxing time and also can use it for exercising. It's easy to change power levels by pressing the left button under the display panel according to your needs.
Removable Lithium Battery: Large capacity 48V 17Ah lithium battery allows you to have a long endurance. Two charging methods: you can charge the battery in the frame or take it out to charge.
Configuration: 29 inch bike can give you a different riding experience. Shimano 7 speeds, you can choose any speed to enjoy faster riding time or experience relaxing holiday according to your needs. Front and rear hudraulic disc brakes fully protect your safety and perfect climbing ability allows you to cross ramps with ease.
Multifunctional Display: Equipped with multifunctional LCD display, so you can check the riding data more conveniently, such as speed, battery level, odometer and so on, you can also switch the pedal assist level according to the road condition.
Service - With two-year warranty for the frame, 6 months for the battery, charger and controller, 3 months for other electric parts. This bicycle arrives 90% assembled. It's not hard to finish aseembly by yourself. If you have problems, please contact us any time.
Other brands we have reviewed that you may find useful;