Should I Buy A Moustache E-Bike? Our Guide & Review
Moustache has been around the e-bike industry for around a decade now creating urban bikes, kid bikes and mountain bikes with a trail range. 
They believe that an e-bike is the perfect alternative to a car and create all of their iconic bike models with unique powerful designs for reliability and fun. 
The Moustache bike range is pretty large, so we will briefly go over the selection of bikes below and then review the new updated improved bike models from 2021 so as you can see if these Moustache bikes are worth the investment. 
Moustache Electric Bikes Overview 
As we mentioned above, Moustache creates a huge range of models, from an e-bike for city trips or a bike perfect for the trails. 
We have split the Moustache range up into their main categories below with a small overview of the models in each range. 
Mountain Bikes 
Samedi 29 Game - With their powerful Bosch Performance Line Motor and high suspension, these models are perfect for all kinds of terrain.
Samedi 27 Wide - Using their Bosch battery for excellent range and coming with a boost mode for high power riding.
Samedi 29 Trail - These bikes have a balanced geometry special for climbing.
Samedi 27 Weekend - The most excellent bike for range down to their 1125Wh double battery.
Urban Bikes 
Lundi 27 - One of the first models from moustache and comfortable thanks to their unique upright handlebars.
Friday 28 - Great carbon front fork with a hidden battery and Motor Bosch design. 
Versatile Bikes 
Samedi 28 - Made for comfort with their lower top tube design as a traditional city bike.
Samedi 27 Xroad FS - Best for use as an urban bike and an off-terrain bike at the same time with a balanced bike geometry.
Road Bikes 
Dimanche 28 - A collection of commuting bike types with Bosch city motor systems and a specific e-road programme for a stable ride on the road.
Gravel Bikes 
Dimanche 29 - Excellent for road and trail use with large tyres and a 600W motor. 
Fat Bikes
Samedi 26 FAT 4 - Featuring a 600W motor with 4-inch tyres, this is the beast of the Moustache e-bike range.
Our Review Of The Moustache 2021 Range 
In the 2021 release from Moustache, they have put out the; Moustache Samedi 27 Weekend e-bike, the Lundi 27 and the Moustache Samedi 26 Fat 4 which we covered briefly above. 
To see if these new models from the Moustache range are worth it, with have reviewed them in greater detail down below. 
Electric Components 
Motor 
The Lundi 27 e-bike from Moustache comes with a Performance Line Gen 3 motor from Bosch and has a 250W road-legal wattage from its motor producing 65Nm of torque, while the Samedi 27 Weekend uses a Bosch Performance Line CX motor that can produce up to 80Nm of torque like the Samedi 26 Fat 4 too. 
What We Think
In terms of the performance, we love the newly updated motor on the Lundi bike which gives the high-end city bike even more natural assistance when riding, the motor power on the Fat 4 and Weekend is great too for off-roading.
Battery 
Battery wise, the Lundi 27 uses an Integrated Bosch PowerTube Battery, this 500Wh battery is hidden in the downtube frame of the bike, the Fat 4 bike on the other hand is equipped with a 625Wh Bosch PowerTube battery too.
The Weekend e-bike is the best of all with a Bosch DualBattery that has an impressive battery range thanks to its 1125Wh capacity. 
What We Think
All the ebike battery range and design on these e-bikes fit seamlessly into the frames of the bikes and the Weekend e-bike is just exceptional for activities such as touring because of its additional battery. We wouldn't fault the battery in any of the designs, except they do make the bikes very heavy in addition to the motor.
PAS/Display
The Weekender bike has a nyon display from Bosch and its PAS modes can be chosen from the connect app on your phone. This display is also customisable so you can get it to show the metrics you want. Its display is also seen on the Lundi 27 and the Fat tyre bike features a slightly smaller screen.
What We Think
All modes come with a great range of five different PAS modes, and we like the high-quality Bosch Nyon display on both the Weekender and Lundi, however, the Fat tyre bike does have a lower quality Bosch Purion display which is harder to read in daylight.
Bike Components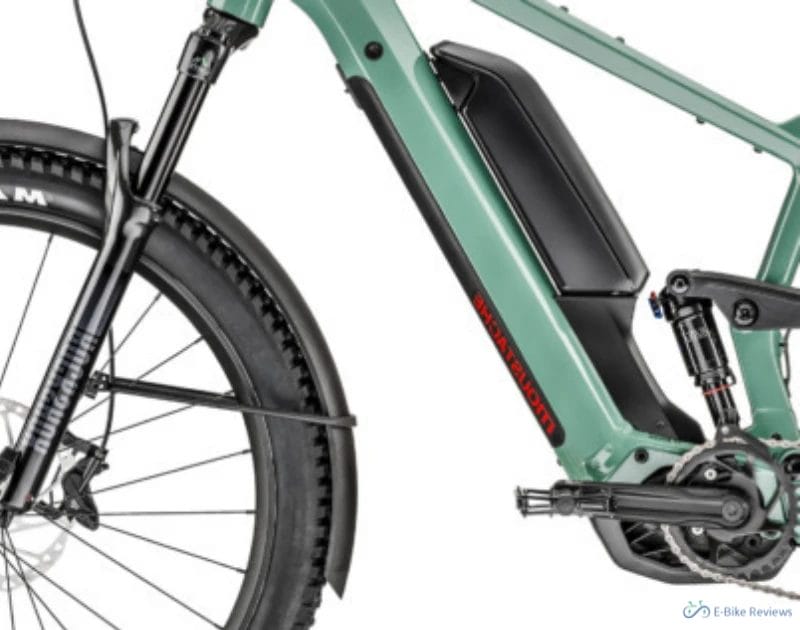 Frame 
Frame-wise the Lundi bike has high-riser handlebars and has a low step-over frame made from aluminium alloy, the Weekender uses a 120mm travel fork and Rock Shock 35 gold fork with rear shock magic grip. 
On the Fat 4, the e-bike has a RockShox fork too with an aluminium frame. 
What We Think
The suspension of the Lundi is pretty poor in comparison to the Fat 4 and Weekender as it is more of a road bike, we like the durability of the other two bikes, but they are very heavy.
Brakes & Gears 
All of the e-bikes use Shimano hydraulic disc brakes with the fatter tyre bike having four pistons for even better-stopping power due to its extra weight. Gear-wise the Lundi has an Enviolo TR system for its gears while the Weekender uses a Shimano Deore 12-speed drivetrain for great control when off-roading. 
The Fat 4 bikes feature a Shimano Deore XT, 11-51T speed derailleur gearing system.
What We Think
The gears are slightly limited on the Lundi, but we expected the Weekender and Fat 4 to have a better drivetrain due to their off-road design, all e-bike use hydraulic brakes which is great for stopping power considering they are heavy bikes. 
Accessories
This Weekender bike includes mudguards, a luggage rack and integrated lights while the Lundi 27 includes a 27.5-inch tyre, a rear rack and integrated lights too. 
The Fat 4 is probably the most limited when it comes to accessories but does have its wide tyres and lock-out lever for the fork.
What We Think 
In terms of value for the money, the Weekender bike offers quite a big range of accessories but with the expensive wide volume tyres on the Fat 4, we can see why they didn't include any. 
Is The Moustache E-Bike Range Worth It?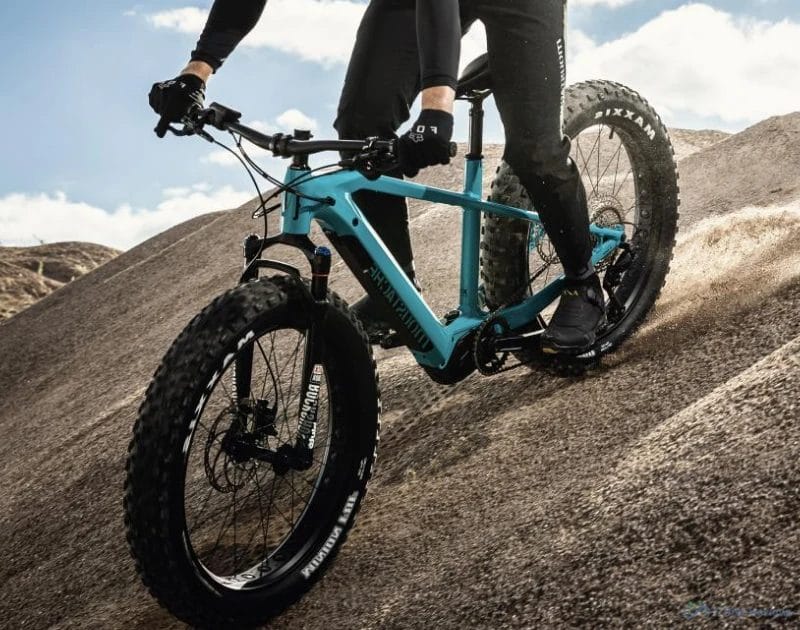 To conclude, the Moustache E-Bike range is 100% worth it whether you want a standard leisure bike like the Lundi 27 or a high-quality long-range bike such as the Weekender.
All of the bikes are made with exceptional quality bike parts such as Bosch and Shimano, meaning they will last you a long time even with daily use on the road.
Other brands we have reviewed that you may find useful;